Wind-driven fire destroys million-dollar homes in tony SoCal neighborhood
AccuWeather Chief Meteorologist Jonathan Porter said the historic lack of precipitation for a stretch of later winter into early spring has California in a perilous state. "Although there was some rain and mountain snow in California in parts of December and April, the 'wet' season overall featured record low amounts of precipitation," Porter said, "In fact, we witnessed the record driest January through April time period in California in 128 years this year, a truly staggering statistic."
AccuWeather Global Weather Center – May 12, 2022 – At least 20 homes have been burned by a rapidly spreading brush fire that ignited early Wednesday afternoon in Southern California, officials said.

A firefighter works to put out a structure burning during a wildfire Wednesday, May 11, 2022, in Laguna Niguel, Calif. (AP Photo/Marcio J. Sanchez)
According to Orange County Sheriff's Department Sgt. Scott Steinle, the fire broke out shortly before 3 p.m. local time near the South Orange County Wastewater Authorities Coastal Treatment Plant west of the city of Laguna Niguel, California. Not long after breaking out, the fire had exploded in size and flames had overcome several homes in the area.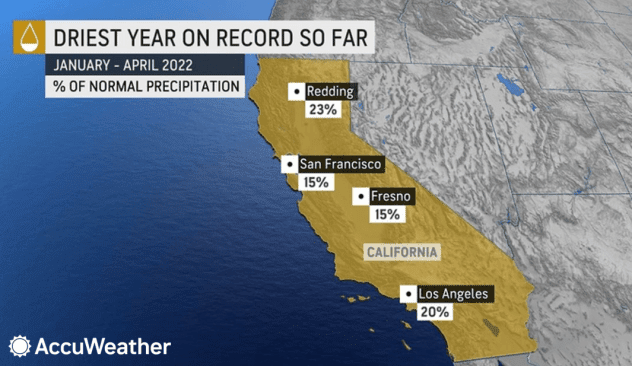 The fire was burning an area between Laguna Niguel and Aliso Viejo, located roughly 50 miles southeast of Los Angeles in the San Joaquin Hills of Orange County. Known as the Coastal Fire, the blaze engulfed more than 200 acres as of Thursday morning with zero containment. According to fire officials, the fire scorched at least 170 acres between 5 p.m. and 6 p.m. as it climbed upslope and approached multi-million dollar mansions.
Although coastal winds fanned the flames, one local fire official said the winds impacting the Laguna Hills region on Wednesday were nothing out of the ordinary.
"The winds we experienced today are not unusual," Orange County fire chief Brian Fennessy told reporters. "These were not Santa Ana winds. These are coastal winds that we experience generally every day."
About AccuWeather, Inc. and AccuWeather.com
AccuWeather, recognized and documented as the most accurate source of weather forecasts and warnings in the world, has saved tens of thousands of lives, prevented hundreds of thousands of injuries and tens of billions of dollars in property damage. With global headquarters in State College, PA and other offices around the world, AccuWeather serves more than 1.5 billion people daily to help them plan their lives and get more out of their day through digital media properties, such as AccuWeather.com and mobile, as well as radio, television, newspapers, and the national 24/7 AccuWeather Network channel. Additionally, AccuWeather produces and distributes news, weather content, and video for more than 180,000 third-party websites.