Texas Christmas tree industry expecting tree-mendous year
It looks like the Texas Christmas tree sales will be getting a boost this year, said a Texas A&M AgriLife expert and others associated with the industry.
Fred Raley, tree improvement coordinator with the Texas A&M Forest Service, is among those anticipating an increase in Christmas tree purchases in Texas, and elsewhere, this year.
"Since COVID, there have been far fewer family gatherings around the Christmas holidays," he said. "As a result, there has been an increased desire for families to get together — and to have a Christmas tree as a centerpiece of that gathering. Even with COVID still around and CDC guidelines in place, the desire — and demand — is still there."
But not just any Christmas tree, Raley said. There will be a much greater demand for live Christmas trees, as many people consider them the quintessential symbol of the holidays.
"People like to select their own Christmas tree, and there are many locations throughout the state where they can choose their tree and have it cut," he said. "For many families, there is nothing like choosing your own tree and having the smell and feel of a live Christmas tree. It's part of a Rockwellian view of a family Christmas that many people seem to be wanting to continue or recapture."
He also noted that almost all artificial Christmas trees are imported, and live trees have the benefit of being entirely biodegradable.
Texas Christmas tree production and pricing
According to the Texas Christmas Tree Growers Association, TCTGA, there are 175 Christmas tree farms in Texas producing some 200,000 trees annually on about 2,500 acres statewide.
This year, the live Christmas tree industry in Texas has had its challenges from drought to rising production input costs, but TCTGA executive secretary Stan Reed said he does not expect to see any drastic price increases on Texas-grown trees.
"Prices will vary depending on the size and type of tree and may be a little higher than last year," he said. "But generally, there should be no big price increases. However, where you may find higher prices is for those trees that are grown out of state and then brought into Texas, as they will have additional costs associated with transportation."
Spring Creek Growers, a family operation in southwestern Montgomery County, grows and harvests Virginia pine and Leyland cypress trees for the Christmas season on about 30 acres. It offers choose-and-cut, pre-cut and live trees.
Bob Jones, co-owner of Spring Creek Growers with wife Carla, said the drought did not significantly affect production this year.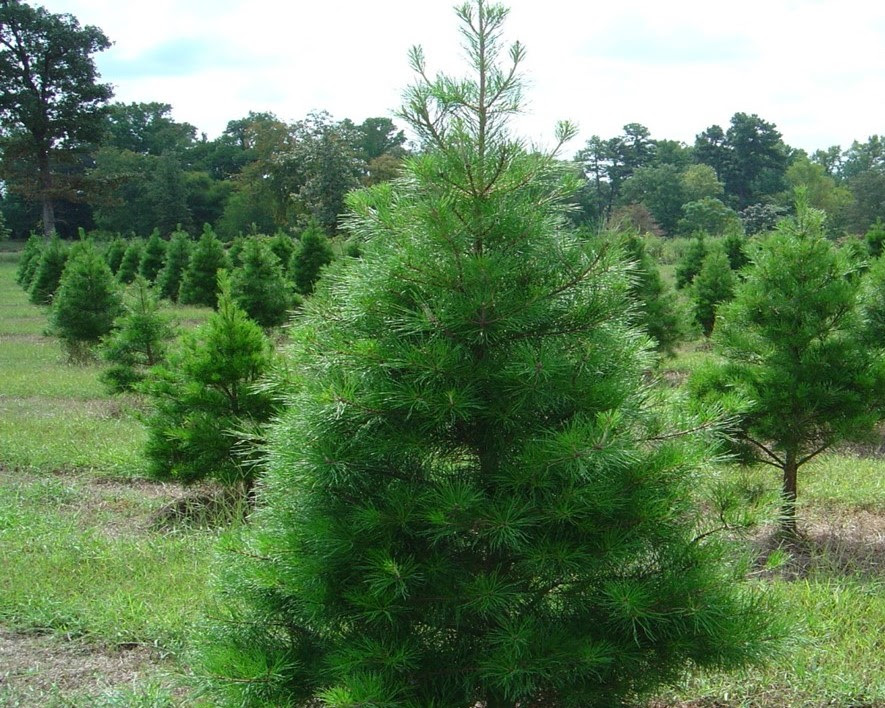 "We have about 12,000 trees on site," he said. "And because we irrigate, there was no real impact on production from the drought, but we did have additional water costs from the irrigation."
Jones also noted the increase in costs over the past year for herbicides and other chemical inputs such as fertilizer.
"Our chemical input costs generally went up about 15% across the board and the cost of fertilizer has doubled," he said. "But we are doing what we can to continue to make our live trees affordable, even if that takes away from our profit margin."
Jones said trees grown at his farm will likely have a 5-6% increase over last year, while trees brought in from out of state to his operation will have higher price increases.
"We bring in some Frasier pines and nobles from out of state to give the consumers more variety," he said. "These trees will likely cost 10-12% more this year, due to higher input costs combined with the rising cost of transportation."
Jones said based on the number of phone calls and emails Spring Creek Growers has received to date, he expects this year to be a very strong one for consumers to purchase live trees.
"We had a banner year last year and expect to have another really good year this year," he said. "People choose a live tree for Christmas so they can have variety from year to year instead of pulling out and putting up same artificial tree every year. They also enjoy coming to the farm and choosing their own tree. In that regard, we provide more than just Christmas trees, we provide a complete experience for the family."
Christmas tree popularity
The most widely grown live Christmas tree species in Texas are the Virginia pine, Leyland cypress, Afghan pine and Arizona cypress.
Raley said the best-selling and most popular live Christmas tree species is the Virginia pine.  because it grows well throughout the state.
"Virginia pine trees were selected by the Texas Christmas Tree Growers Association for their survivability, growth and form," he said. "They are also favored for their ability to grow across the state, which is crucial in Texas as more than 90% of all forested land is privately owned."
However, he said, there has been an increased interest in other tree species, particularly the Afghan pine.
"Afghan pines grow well in Central Texas, and that's the area from where most of the increased consumer interest has come," he said. "But there has also been growing interest in other species as live Christmas tree selections."
Raley said the Tree Improvement Program is working with industry and growers to provide seeds and technical assistance in finding additional tree species that may be grown successfully in the state and offer consumers even more options when selecting their live Christmas tree.
Reed said for those wanting to buy a live Christmas tree, his best advice is to shop early.
"If you wait until the second or third week of December to buy, you'll have a limited selection of Christmas tree types and sizes," he said. "It's best to buy early. If you properly water and maintain your live tree, it will easily last through Christmas."
AgriLife Extension district reporters compiled the following summaries:
CENTRAL
Soil moisture was short and overall range and pasture conditions were very poor. Overall crop conditions were 75% poor and livestock conditions were 70% poor. An early hard frost killed most summer grasses, making it necessary for most livestock producers to start feeding hay. Producers were also dealing with short hay supplies and high feed prices. Stock tanks and river flows remained low, with annual precipitation only about two-thirds of normal. Livestock were in fair to poor condition and being supplemented heavily.
ROLLING PLAI|NS
Topsoil moisture was generally adequate. Range and pasture conditions improved and many overseeded some winter grass mixes into their pastures and fields. Hay was scarce with livestock producers waiting on wheat to grow enough for grazing. Cotton harvesting continued and was almost complete. Winter wheat planting was mostly finished with mixed progress so far. Some stocker cattle were being turned out on wheat and supplemental feeding was in full swing. Cattle were struggling due to a lack of good quality grass this fall, few winter pastures and lack of good quality hay.
COASTAL BEND
The area received rainfall from 0.5 inch to 3 inches. All fieldwork was stopped due to cold and wet conditions. Producers were placing seed orders and making plans for fertilizing for next year. Warm-season pastures were going dormant and winter pastures were expected to improve with the additional moisture. The second hay cutting was wrapping up before the first expected frost. Livestock producers were stocking hay for the winter. Livestock were in good condition and the livestock market volume slowed due to with wet conditions. Cattle prices were steady. Pecan harvest continued as the weather allowed.
EAST                                                                                                                                                  
Rainfall helped conditions in some areas, but many continued to struggle with low pond and creek levels as well as low soil moisture. Cold weather moved through the region bringing freezing nighttime temperatures and morning frost. Pasture and rangeland conditions were poor to good. Subsoil and topsoil conditions were adequate to short. Hay supplies were expected to be just adequate or short for most producers. Livestock were in fair to good condition with supplementation taking place.
SOUTH PLAINS
A hard freeze occurred over much of the area. Cotton producers waiting for the freeze to defoliate their cotton were seeing progress on their crops and harvest had begun. Some farmers were still stripping their cotton crops, but many producers had finished. There were still some unharvested sorghum fields but those should be finished soon. Cattle producers were grazing livestock on pastures with enough forage, holding off supplemental feeding as long as possible. The winter wheat was progressing nicely, and the cooler temperatures and humid mornings were giving wheat and oat crops a boost.
PANHANDLE
Overall soil moisture was short to very short, but a few areas received some much-needed moisture. Overall range and pasture conditions were poor, as were overall crop conditions. Corn and sorghum harvest continued, with cotton harvest progressing behind freezing temperatures. Winter wheat was still being planted. Early planted wheat that was irrigated now has stocker cattle on those acres. Wheat stands were improving with time. Cattle were being supplemented on rangeland. Hay supplies had improved with summer forages being baled.
NORTH                                                                                                                   
Soil moisture was short to adequate for the region. Temperatures were much cooler than normal, and many frost-sensitive plants were killed. There was generally not much grass for cattle to graze. Winter wheat, oat and triticale planting was picking up slightly, although some fields were too wet to plant. Hessian fly eggs were found in emerged wheat. Ponds were full. Cattle were in good condition. There was a small number of swine respiratory illness reported.
FAR WEST
There was a significant drop in temperature along with high winds. Overnight lows were in the high 20s to low 30s, with daytime temps in the mid-40s to mid-50s. There were sustained overnight freezes that caused rangeland to stunt or not improve in quality. The only recorded precipitation was a light dusting of snow that was less than 0.5 inches. Cold, humid days slowed the cotton harvest. With the humidity very high most of the day, many growers were only able to harvest three to five hours per day. The cotton harvest was coming to an end, with only a couple hundred acres remaining. The ginning was expected to finish early next week. Winter wheat had a decent stand, but it is extremely short and there was the possibility of it blowing out due to the high winds. The pecan harvest was slowly picking up. An earthquake shook the area, with residents across most of the southwest portion of the region feeling at least some of the quake. Livestock producers continued to supplement livestock.
WEST CENTRAL
It was cold with little rainfall across the region. The groundwater supply was better in some areas, but still generally low throughout the region. Wheat and oat fields perked up and started to grow but were still relatively short for late November. The cotton harvest was steady. Local livestock sale barns continued to see steady numbers as producers were selling off livestock. Livestock condition is generally good.
SOUTHWEST                                                                                                               
Some areas received light rainfall, but for the most part they did little to affect soil profile moisture. Fungal infections, notably hypoxelin canker, leaf spot and needle blight, were still on the rise among oak and pine trees due to warm and wet conditions experienced during October. Only irrigated crops were doing well. The small amount of rain that fell helped oats, rye and winter wheat. Pasture and range conditions had improved. The colder weather led to greater supplementation and increased stress on livestock. There was a lot of deer activity, but buck antler size is down considerably this year.
SOUTHEAST
Rangeland and pasture ratings varied widely from excellent to very poor, with fair to very poor being the most common. Soil moisture levels throughout region ranged from adequate to very short, with short being the most common. Some areas received enough rain to where pastures became saturated and held water. A frost and cooler nighttime temperatures shut down growing activity for summer grasses but proved favorable for winter forage production to begin germination and growth. Most of the wheat and oats have been planted and several locations were late getting seeded. Hay was pretty much done, but winter ryegrass was starting to come and even being fertilized. Livestock were in generally good condition.
SOUTH                                                                                                                   
Moisture levels were short to very short under cool weather conditions. Some areas received rain. Pasture and range conditions generally held steady or improved somewhat. Supplemental feeding continued to increase. Range and pasture conditions were poor to very poor, with some improving where there was rainfall. The summer crops were finished for the season, including the coastal Bermuda grass fields. Cool-season vegetables were doing well. Peanut harvest continued and was close to completion. Pecan producers reported another normal harvest this year. Farmers continued to harvest spinach and cabbage. Citrus and sugarcane were being harvested. Winter oat plots looked promising. Farmers and ranchers prepared seed beds and planted fall crops. The little moisture received in some areas was adequate to get seeds to sprout and cooling temps aided plant growth. Some producers were concerned over the hay supply. In some areas, livestock and wildlife were doing well thanks to improved range conditions, but in other areas they required supplemental nutrition. Cattle prices at local markets were consistent, while some cattle producers were preparing for the winter months by reducing their stock. Cattle were generally in good condition, with some livestock producers putting out extra hay and taking advantage of the cooler temperatures to work their cattle. Hay producers completed their baling for the fall. Feed prices for cattle and deer were high, and corn demand increased due to deer producers and hunters supplementing their wildlife.
Would you like more information from Texas A&M AgriLife?
Sign up for our Texas A&M AgriLife E-Newsletter