Celtic Angels Christmas coming to Whatley Center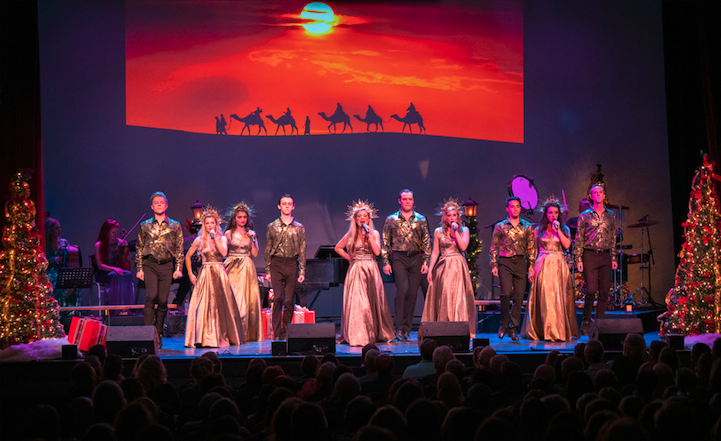 November 17, 2022
The Whatley Center for the Performing Arts at Northeast Texas Community College is ready to help you get into the holiday spirit as it hosts The Celtic Angels Christmas on Tuesday, Dec. 6th at 7:30 p.m.
Get swept away with The Celtic Angels in this dazzling collection of Holiday and Irish favorites – a truly joyous seasonal celebration from start to finish. Feel the magic of the Celtic Angels as they invite you to immerse yourself in the electric ambience of an Irish Christmas. Witness the power and precision of the world class Irish step dancers, The Celtic Knights accompanied by the thrilling live tunes of the Trinity Ensemble.
"This production really has it all – a beautiful set, talented musicians, traditional Irish songs and dancing and your favorite Christmas carols. I can't think of a better way to kick off the season," Carolyn Franks, Director of the Whatley Center, said.
Starring the quintessential vocals of Louise Barry, Olivia Bradley, Michaela Groth, Katie Sweeney and Chloe Haven. These dynamic divas enthrall and delight with their jaw dropping performances and spine tingling harmonies. Written, directed and choreographed by Dublin native, Louise Barry (The Diddley Idols / National Theatre) this wonderfully nostalgic journey will have you dashing through the snow to the local snugs of Ireland, where a step is expected, sing-a-longs are mandatory and good craic is had by all.
Musical arrangements by Daniel Thompson (Glenn Miller Band) and Peter Sheridan (Celtic Thunder) ingeniously marries the old and new worlds with traditional and contemporary Irish and Holiday tunes. A few of the selections include Joy to the World Medly, Go Tell it on the Mountain, O Holy Night, Silent Night, Danny Boy and Little Drummer Boy.
Try to stop your toes from tapping and your hands from clapping. Sing from the top of your lungs and join The Celtic Angels as they rejoice in the joys of the holiday season.
The Celtic Angels Christmas is sponsored by Cypress Bank. The performance is included in season ticket packages, but a limited number of individual tickets are available $30 for adults and $10 for students. Tickets may be purchased online at www.whatleycenter.com or by calling the box office at 903-434-8181.