Forever Motown comes to Whatley Center Feb. 18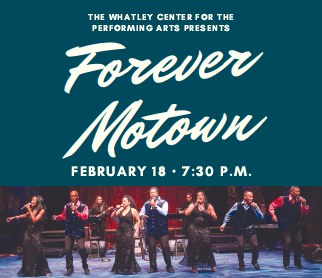 February 10, 2022
The Whatley Center for the Performing Arts at Northeast Texas Community College will host a concert by Forever Motown on Friday, Feb. 18 at 7:30 p.m. This is a full stage production of your favorite hit songs from all the Motown Legends.
Direct from New York, the show stars Theo Peoples, Former Lead Singer of The Temptations and The Four Tops, Glenn Leonard, former Lead Singer of The Temptations and Traci Robinson former lead singer of The Marvelettes with an All-Star live band.
"You don't want to miss Forever Motown! This will definitely be one of those shows where you will find yourself singing along as they perform your favorite hits," Carolyn Franks, Director of the Whatley Center, said.
Forever Motown is sponsored by Drs. Mary White and Brad Scharf. Tickets are $30 for adults and $10 for students. This event is included in season ticket packages. You may purchase seats online at www.whatleycenter.com or by calling the box office at 903-434-8181.