Moran Minute: Turkey and Tactics: The Path to Preventing a Thanksgiving Government Shutdown
Friends,
I hope that this newsletter finds you well as you are preparing for time with your family over the next week for Thanksgiving. If your holiday plans include travel, be safe. If your plans involve cooking delicious food, let me know when and where to show up! In D.C., we are back to lots of committee business, pushing back against the administrative state, and trying to true-up the direction of this nation.
Opposing DEI in Education and the Workforce Committee
This week in the Education and the Workforce Committee, we held a hearing on "Confronting the Scourge of Antisemitism on Campus." During that hearing, I spoke out against Diversity, Equity, and Inclusion (DEI) offices at colleges and universities. The hypocrisy of these DEI programs has become even more clear over the past five weeks since the attacks by Hamas on Israel, and subsequent spotlight that shined on anti-Semitism here and abroad. When I questioned the Committee witnesses, they told their own stories of failures of so-called DEI programs to protect Jewish students from harassment and discrimination. The system and framework of these DEI programs is flawed in so many ways, and they work against the American ideals of looking past a person's outward appearance. Listen to my comments and the testimony given during this week's hearing to see for yourself how hypocritical liberal elites act on college campuses through their DEI offices.     
Holding the Democrat-Led EPA Accountable
On Wednesday, I led 29 of my fellow members of Congress in championing a letter to the Environmental Protection Agency (EPA) opposing their proposed rule to expand existing federal regulations of coal combustion residuals (CCR). The proposal directly contradicts the EPA's previous regulations enacted in the Water Infrastructure Improvements for the Nation (WIIN) Act, which narrowly defined what EPA is allowed to regulate and did not include what EPA is attempting to regulate now. The EPA's proposal also does not properly consider its associated costs and benefits, and stands against congressional direction and states' rights, thereby making it fundamentally and legally flawed.
To read my full letter, click HERE.
Condemning the United Nations for Antisemitic Remarks
This week, I penned a letter urging U.S. Ambassador to the United Nations (UN), Linda Thomas-Greenfield, to condemn UN Secretary-General Antonio Guterres for disgraceful remarks he made in reference to the attacks on Israel. In October, Guterres referenced that the terrorist attacks on more than 1,400 innocent people by Hamas "did not happen in a vacuum." These comments are a notable shift away from Guterres' previous statements made in 2017 where he promised to act against a rising global tide of anti-Semitism. The United States should not condone speech that justifies acts of terrorist organizations; rather, it should make clear that we reject rhetoric that undermines our greatest ally, Israel. After seeing private footage of the October 7th massacre this week, I am left more determined than ever to stand with our friend and ally, Israel, and to see that those responsible for the atrocities on October 7th are held to account. Evil cannot win.
To read my full letter, click HERE.
As we celebrated Veterans Day this past weekend, I was grateful to attend several events across the First District in honor of our veterans and their service to our country. Time and geography kept me from being at every ceremony, but these visits gave me the chance to express my heartfelt gratitude to the brave men and women and their families who have served and continue to serve our great nation. It was a humbling experience to witness the unwavering commitment and sacrifices made by our veterans, and I was deeply moved by their stories of courage and resilience.
This past weekend, the Watkins-Logan Veterans Home held a Veterans Day celebration in Winona, where I met with older veterans living there at the facility who exemplified courage and patriotism during their time of service, including Dr. Jack Hetzel, who served at Normandy and the Battle of the Bulge. Dr. Hetzel turns 102 this weekend. Wish him a Happy Birthday if you see him!
Congressman Moran with Veteran Dr. Jack Hetzel
Later that evening, I spoke at Flint Baptist Church's Patriotism and Praise in honor of Veterans Day. Thanks to Pastor Sam DeVille for allowing me to speak and Marine veteran, Tim Lee, for sharing his story of service and sacrifice.
Congressman Moran at Flint Baptist Church's Patriotism and Praise event
I was also able to speak at the Tyler Chamber of Commerce Veterans Day Ceremony at the American Freedom Museum in Bullard on Saturday, where community leaders gathered to pay tribute to those in every branch of the military. We heard the heart-wrenching tale of a Gold Star Mother, the reflections of local elected officials who served in the military, and poems from a local writer giving tribute to our veterans. All of this was a continued motivator to support our men and women in uniform.
On Saturday, Marshall held its Annual Veterans Day Program at the Marshall Depot, followed by the "Marshall, Texas: Railroad in our Roots" program, which honored Texas & Pacific Railway veterans for their hard work and commitment to providing safe and accessible railroad transportation to East Texans.
Celebrating Carthage's Dodransbicentennial Anniversary
On Saturday, I presented the City of Carthage with a Congressional Record congratulating them on their 175th anniversary. Carthage celebrated its dodransbicentennial anniversary and rich history throughout the past 175 years with music and great food. It was a spectacular event in Carthage. The music, theater, and dance acts, and food were worthy of 175 years. Congratulations on this milestone!
The Congressional Record Honoring the City of Carthage for 175 Years
Transatlantic Unity: US-EU Defense Forum
This week, in Washington, I spoke at the Atlantic Council's US-EU Defense & Future Forum in honor of our nation's veterans. We paid homage to the veterans from both the United States and Europe for their service to their homelands, including the many who fought together for our democracy and liberties, and their contributions made to better unify the transatlantic. Almost 90,000 United States service members are buried in cemeteries in Europe. Together, we discussed how maintaining a strong transatlantic relationship between the U.S. and the E.U. is a core component of a safe, stable, and prosperous world. Thank you to Ambassador Lambrinidis for hosting such a wonderful, important event!
Congressman Moran at the Atlantic Council's US-EU Defense & Future Forum in Washington, D.C.
This week, I was also fortunate to meet with members from Texas Farm Credit, talk issues important to agriculture, farming, and ranching communities, and give them a memorable tour of the U.S. Capitol. We discussed a range of issues, including crop insurance, overly burdensome federal regulations on our farmers and rural communities, and the vital role that Farm Credit plays in providing access to capital and financial services for those in agricultural industries. It was a wonderful exchange of ideas and a chance to strengthen our relationships and the First Congressional District's commitment to agriculture and rural America.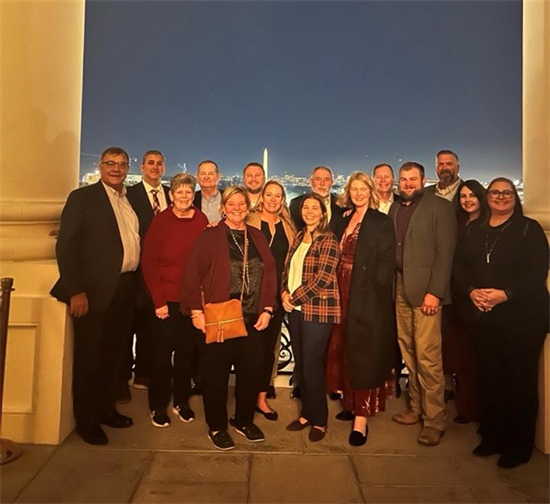 Congressman Moran with Texas Farm Credit During a Tour of U.S. Capitol
Fostering the Next Generation of Conservative Leaders
It was a privilege to speak to interns at The Heritage Foundation and share my framework for effective conservatism. The principles that form this framework are the structural and substantive pillars that make our government more productive, fiscally responsible, and accountable. We engaged in meaningful conversations about the significance of these principles in shaping a prosperous and free society based on conservative values. By fostering an environment that encourages respect for Judeo-Christian heritage, defense of our Constitution, and participation in the political arena, we can ensure a better future for Texans and all Americans. I am grateful for opportunities like this to engage with the next generation of conservative leaders and challenge them to think independently.
Congressman Moran with Heritage Foundation's Young Leaders Program 
How Can My Office Help You?
Dealing with federal agencies can be complicated, and my office is here to help.
If you need help with Social Security, the IRS, passport renewals, the VA, or other federal agencies – please do not hesitate to reach out to my office by calling (903) 561-6349 or visiting my website by clicking HERE.
It is an honor to be your voice in Congress.
With gratitude,
Nathaniel Moran
Member of Congress
Answer to Last Week's Texas Trivia Question
What is the state dish of Texas?
Chili
This Week's Texas Trivia Question
What do the colors of the Texas flag stand for?
Check next week's newsletter for the answer to this week's Texas Trivia question!