Opportunity Enthusiasts: NTCC's 23-24 Russell-Mowery, and Wesson Scholars

November 8, 2023
By: Dr. Andrew Yox, Honors Director
When Americans delve into fiction, cops, and criminals, take center stage. Higher Education, with its semester-schedule routines, grade-melodrama, and plodding creep to graduation seems drab by contrast. But in terms of the American Dream, and individual wellbeing, much rides on higher education. Even a major critic of the institution, Brian Caplan, in a recent book avers that the average recipient with a four-year degree will make an average of one-million more dollars in their lifetime than the average adult without such a degree.[1]
Look closely, and there is much every year that is unique.  The attainment quotient of NTCC's most creative students can change drastically. Student personalities can turn a mediocre classroom session one year, into an enlightening debate the next. This year, there is an unusual dynamic with student leadership at NTCC, the rise of honors students who also are also assiduous facilitators of student success in general. We might call them, "Opportunity Enthusiasts." Michelle Calderon (pictured left), NTCC's Russell Mowery Scholar, and Monse Rivero (pictured right), NTCC's Dr. Jerry Wesson Scholar, are two cases in point.
Both Calderon and Rivero are award-winning members of Phi Theta Kappa and Honors Northeast. Both have received tumultuous applause for their attainments at state meetings, and both have completed creative works of scholarship.  But both dedicate a good deal of their time to roles that assist other students, both as they work for the college, and they volunteer for above-and-beyond associations which similarly provide larger opportunities for larger groups.
On any given day or time during the semester, one might well find Michelle Calderon behind the desk at the NTCC Student Services Building, handling general questions about the college or helping to settle student accounts.  Something similar can be said of Monse Rivero who spends an inordinate amount of time, as the Resident Assistant at the NTCC dorms. One moment she is welcoming high school prospects, the next, answering questions about emergency protocols, or finding a missing volleyball.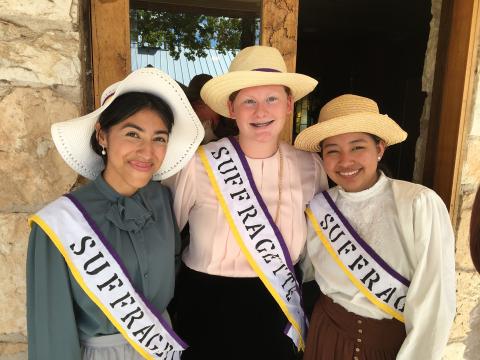 In addition to such institutional work, Calderon and Rivero have gone above and beyond as leaders of NTCC associations that mediate larger opportunities for students on campus.  Calderon was elected in September as president of Honors Student Council by the twenty-five honors students who compose Honors Northeast.  She is thus an official who also sits on the official Honors Committee of the college.  She also currently serves as Phi Theta Kappa's treasurer, Psi Beta's scholarship coordinator, as secretary of the Student Success Association's Secretary, and as a member of Sigma Kappa Delta.  Monse Rivero, meanwhile, is a Vice President of the Texas branch of Phi Theta Kappa.  For this end, she can spend four hours a week on zoom meetings, discussing regional meetings, student awards, and innovative new initiatives in public service. In addition to this, she serves as vice president of the honors student council, a member of Sigma Kappa Delta and an ESL tutor.  Rivero is also the founder of NTCC's TAFE, the Texas Association of Future Educators.
When the opportunity dividend gets higher, there are often reasons to take an easier path. But both Calderon and Rivero also became the leaders of the ongoing film projects of Honors Northeast, that involves intervarsity competition with universities.  Both served the 2022 honors film, Calderon particularly by being the film scholar, and Rivero by being an actress. Both then became leaders of the most extensive effort yet, the 2023 film that has involved fifteen individual days of filming. From the beginning Calderon and Rivero were not only advocates of the film effort, but of a "best film ever" slogan that has energized the participation this year.  As the 2022 film won a State of Texas Caldwell Award, all involved students could say they were part of a group effort that led to the best university or college project in Texas history.  Similar accolades may follow for the 2023 film.
And when do they study? Both have converted evenings into yet another shift, and weekends into more week days.  Still there have been times when priorities have collided. In these situations, both have remained surprisingly resolute; if there is work to be done in Phi Theta Kappa or honors, they remain usually at the center of the operation.  As Rivero explains, "I represent all kind of students that the state of Texas has in community colleges: non-traditional, first-generation, international, and immigrant students. I identify more with all the first-generation, Hispanic, and immigrant students just because I know something of their struggles.  But I like to see myself as an advocate for all students, and for the opportunities that exist at a college like NTCC."
Calderon thinks in similar fashion. She remarked recently that many students calling the college don't realize that she is the one on the other end of the phone.  "They may not realize it, but I'm a student just like them. I'm well aware that navigating financial accounts can be stressful and frustrating, so I always try to be understanding and patient while explaining and answering any questions they may have. I decided to lead Phi Theta Kappa and Honors despite my busy schedule, because I love these programs. Early on, I recognized all of the wonderful opportunities that come with being a part of these teams and I wanted to be able to share this with others! Now as I enter my second year, my enthusiasm has only grown. I want to play an active role in helping students be aware of the opportunities NTCC offers and help them succeed. This drive to support and empower my peers is what motivates me to take on these leadership roles and make a positive impact on our academic journey."
Honors Director, Dr. Andrew Yox notes: "we are indebted to Calderon and Rivero as well as to the supporters of their special scholarships, the Mowerys and Wessons, as they drive a very special vision at NTCC, enabling higher apogees of student success.
[1] Bryan Caplan's The Case against Education (Princeton UP, 2018), 69.