Conversational Spanish class ends on a delicious note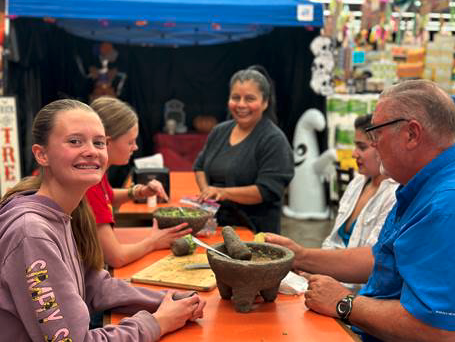 November 2, 2023
The Northeast Texas Community College Continuing Education department recently offered conversational Spanish classes that were held at Super Bueno in Mount Pleasant. The unique setting made for an immersive experience and allowed students to participate in Hispanic culture.
Instructor Iris Marino arranged practical lessons, including one about Mexican Heritage and Culture of a Molcajete. After learning about the history, students took a list of grocery ingredients (all in Spanish) to purchase in the store and work as a team. They finished up their last lesson by making and sampling two salsas using two molcajetes.
They also enjoyed a cake and pan de muertos donated by Super Bueno.
"We are grateful to Super Bueno for partnering with us to offer these classes at their location. This Spanish class, as well as the ASL class that was held at Jos Downtown, were a big hit and we hope to expand those types of offerings," Jimmy Smith, Director of Continuing Education and Corporate Training, said.
Want to get in on the fun next time? More conversational Spanish classes will be offered during the spring semester. Look for dates soon at www.ntcc.edu/continuinged.