Amador, Smith, & Sellars named 2023 Leaders of Promise

September 8, 2023
Pictured: Madellynn Smith.
Yoana Amador and Madellynn Smith were among two of 213 Phi Theta Kappa members named a 2023 Coca-Cola Leaders of Promise Scholar and will each receive a $1000 scholarship. Vinson Sellars was selected as one of twenty-five 2023 Coca-Cola Military Leaders of Promise Scholars and will also receive a $1000 scholarship. Applicants are selected based on outstanding academic achievement and demonstrated leadership potential, competing against nearly 1100 applicants.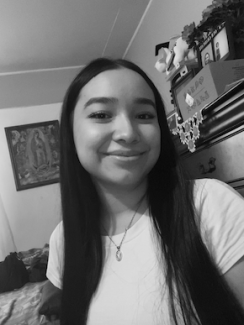 While still new to Phi Theta Kappa, Amador diligently attends every meeting and is eager to become more involved with Alpha Mu Chi, NTCC's local Phi Theta Kappa chapter. Amador is equally excited and thankful to win her very first Phi Theta Kappa scholarship. Coming from a large family, Amador explained that the scholarship will go a long way to ease financial burdens experienced by her parents. When interviewed, Yoana commented, "My parents mean the world to me, and this scholarship will be such a relief to them, just as it is for me. I'm truly blessed to be awarded this scholarship and thank God for everything he has provided me with to be able to succeed in this journey." Amador concluded her interview with a quote from Norm Kelly who said, "push harder than yesterday if you want a different tomorrow."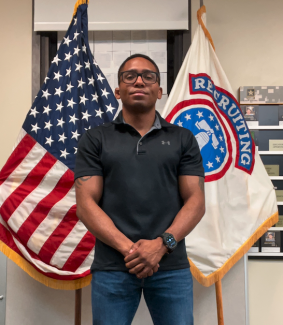 When interviewed about his time in service, Military Leaders of Promise Scholarship winner Vinson Sellars commented, "The military gave me the discipline to be where I am now in my career. Looking back, I had been in the military for over a decade with the intention of retiring. While in Germany during an airborne operation, where ground combat units are carried by aircraft and airdropped into battle zones, I was unexpectedly injured and endured four surgeries. Although my injuries and surgeries took a toll on my body, I was also able to research the details of my recovery. I knew then that I wanted to become a physical therapist."
Sellars concluded his interview with a saying inspired from the movie, Rocky. "I live my life like there's no tomorrow." Vinson added that this motto encouraged him to push himself every day, from when he went to bed to when he woke up the very next day.
The Coca-Cola Leaders of Promise Scholarship Program helps new Phi Theta Kappa members defray educational expenses while enrolled in associate degree programs. Scholars are encouraged to assume leadership roles by participating in Society programs and are selected based on scholastic achievements, community service, and leadership potential. Nearly 1,100 applications were received.
A total of $213,000 will be awarded this year through the Leaders of Promise Scholarship Program. The Coca-Cola Scholars Foundation provides $200,000 in funding for the scholarships, with $25,000 set aside for members who are veterans or active members of the United States military. The remaining amount is supported by donations to the Phi Theta Kappa Foundation, which provides multiple Global Leaders of Promise Scholarships earmarked for international students.
"The Coca-Cola Scholars Foundation has a long history of providing financial assistance to outstanding students at community colleges," said Jane Hale Hopkins, President of the Coca-Cola Scholars Foundation. "We are proud to partner with Phi Theta Kappa to make it possible for more deserving students to achieve their educational goals and support tomorrow's leaders of the global community."
The funds provided by the Coca-Cola Scholars Foundation not only aid college completion but also give students the opportunity to engage in Society programs and develop leadership skills to become future leaders in their communities.
"Research shows that Phi Theta Kappa members are four times more likely to complete a college degree than their peers," said Dr. Monica Marlowe, Executive Director of the Phi Theta Kappa Foundation. "The Leaders of Promise Scholarships recognize students for what they have achieved already and assure that financial need isn't an obstacle to achieving their academic goals."
About Phi Theta Kappa
Phi Theta Kappa is the premier honor society recognizing the academic achievement of students at associate degree-granting colleges and helping them to grow as scholars and leaders. The Society is made up of more than 3.8 million members and nearly 1,300 chapters in 11 countries, with approximately 240,000 active members in the nation's colleges. Learn more at ptk.org.
With the three winners this year, NTCC students have won 30 Leaders of Promise scholarships. Previous winners include (2022) Paisley McGee, (2021) Megan Folk, Fatima Fuentes, and Skylar Fondren, (2020) Carolina Alcocer-Salas, Hannah Barnes, Maritza Quinones, Jaidyn Thompson, (2019) Daniel Landaverde, Jacqueline Fouche', Zachary Davidson, Courtney Baldwin, (2018) Jordan Whelchel, Keli Rymer, Hannah Fouche', Madison Blood, Brynden Andrews, Rhylie Anderson, (2017) Cassidy Watkins, Rachel Jordan, Alicia Cantrell, (2016) Ryan-Rose Mendoza, Dylan McConnell, (2015) Morgan Capps, (2014) Tyler Reynolds, Kelli Knepp, and (2013) Noah Griffin.
To learn more about the Phi Theta Kappa chapter at NTCC, email ptk@ntcc.edu or advisors Dr. Matthew Lampert at mlampert@ntcc.edu or Melody Mott at mmott@ntcc.edu, or Athena Hayes at ahayes@ntcc.edu.