Frank Herbert art exhibit coming to Whatley Center gallery

August 30, 2023
Pictured: Painting by Frank Herbert,
Northeast Texas Community College welcomes Artist Frank Herbert as the exhibiting artist for September.  His artwork will be on display beginning Saturday, September 2nd – Thursday, September 21st.  A reception will be held on Wednesday, September 6th, at 12:30 p.m. in the Whatley Center for the Performing Arts.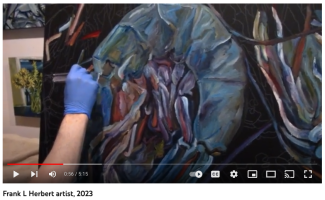 Frank Herbert is an artist and teacher living in East Texas. Born and raised in New Orleans, his work draws influence and inspiration from the physical and cultural richness of the coastal Deep South. He attended Louisiana Tech University, earning a Bachelor of Fine Arts degree in 1978 and Colorado State University, where he received a Master of Fine Arts degree in 1982.
His paintings and drawings have been exhibited in museums, galleries, and arts centers in over 30 states, toured through northern India, and are included in the digital archives of American Artists housed by the Smithsonian Institution's National Museum of American Art. In 1990 he was awarded a Regional Visual Arts Fellowship by the Mid-America Arts Alliance and the National Endowment for the Arts.