Moran Minute: Traveling Across TX-01
Friends,
The last several weeks of travel throughout the First District have presented outstanding opportunities to hear from you and your neighbors and understand the issues facing your communities every day.
With each neighborhood and city that I visit, I am struck time and again by the generosity of our residents and the dedication that East Texans have to serving their friends and neighbors. These values are reflecting in how we live our lives and even how we do business.
A family with deep East Texas roots, Tris and Stephanie Thurman followed their calling in 2012 and opened Thurman's Pro-Med Pharmacy in Mount Pleasant. With the motto of providing "Professional Service, Hometown Care," they set out to provide quality care to their friends and neighbors – pouring into their local community and giving locals a reliable place to get their medications and pharmaceutical care. Tris and Stephanie's commitment to their customers was rewarded, and they have now expanded their service to nearby Morris County.
In Hughes Springs, I visited the Trico Lumber Co. a family owned and operated lumber business that has been providing excellent service to local builders and residents for over thirty-five years. In addition to their quality products, Kyle and Rebecca Morgan's family and employees have built trust with their buyers. This trust and quality has allowed them to expand to locations in Linden and Jefferson.
The men and women who own and operate these businesses aren't just providing a service or a product — they're playing a vital role in serving their communities. We pray alongside them at church, run into each other at the grocery store, and cheer for the local football team together. As a result of these deeply-rooted relationships, local business owners strive to support their communities and provide quality service that we can trust and depend on.
As I continue crossing the First District, I look forward to meeting and chatting with you. As always, if there is an issue or concern you'd like to share with me – please do not hesitate to reach out to my office at (903) 561-6349 or send me a message by clicking HERE.
Thank you to Center Mayor David Chadwick and Loan Officers from Farmers State Bank for meeting with me to discuss the Farm Bill and issues facing the banking industry. Later, I had a great time touring General Shelters  – one of the largest manufacturers of portable buildings in Texas – and hearing about their workforce issues and supply chain troubles.
I also met with President Lucas and the Board of Directors of Shelby Savings Bank to provide an update on my work in Washington and hear of the problems facing constituents across Shelby County. It is essential that we work together to ensure that banks in our communities remain sound for customers and for the economic prosperity of the entire region.
In addition, we visited BKR Meats – a locally owned meat processing business that services local producers. Later on, I met with members of the Texas Farm Bureau. Together, we participated in a roundtable discuss where I had the opportunity to learn about the challenges facing the agricultural industry.
East Texas is a leading agricultural producer – not only in the United States, but across the globe. It is important to me to meet with local farmers and ranchers regularly, ensuring that I understand their concerns and am able to represent their needs to the best of my ability through my work in Washington.
Congressman Moran visiting Texas Farm Bureau in Shelby County.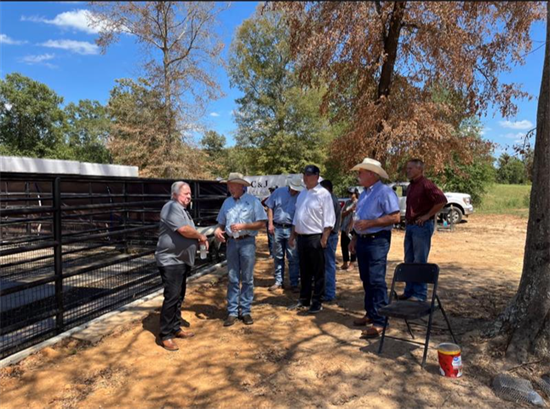 Congressman Moran touring BKR Meats.
Schools across East Texas are starting the new school year! Mount Pleasant ISD Superintendent Marshall was gracious enough to invite me to the district-wide Staff Development Day, where I had the opportunity to thank all for their commitment to our students and wish them an excellent year ahead. As the only Texan on the House Education and the Workforce Committee, I've enjoyed spending time in our local schools, where I've witnessed firsthand the dedication and passion exhibited by our teachers, administrators, and support staff.
The Pilgrim's facility in Mount Pleasant plays a leading role in the American processing industry, in addition to having influence in global trade. Alongside Pilgrim's leadership tea, I had the opportunity to tour the facility and view their daily operations.
Congressman Moran speaking at Mount Pleasant ISD Staff Development Day.
Congressman Moran visiting Pilgrim's Poultry Facility in Titus County.
Thank you to the Lindale Area Chamber of Commerce for hosting me for their Business and Breakfast event, where I had the opportunity to hear from educators about the district's plans for the upcoming school year.
The same day, my team and I visited the Mercy Ships Headquarters – also in Lindale. For over forty years, Don and Deyon Stephens have led Mercy Ships across the globe to care for communities in need, assisting over 2.8 million people in over 56 countries. It was inspiring to learn more about how we can push ourselves to serve others. Thank you for hosting me, and I look forward to seeing the continues global impact of Mercy Ships for years to come.
Congressman Moran Visiting Mercy Ships' facility in Smith County.
Emergency Resources Available
The U.S. Department of Agriculture recently announced a disaster designation in Texas for a range of counties including: Sabine County, San Augustine County, and Shelby County.
This designation makes farm operators in primary counties and those counties contiguous to such primary counties eligible to be considered for Farm Service Agency (FSA) emergency loans, provided eligibility requirements are met. Farmers in eligible counties have 8 months from the date of a Secretarial disaster declaration to apply for emergency loans.
Additional information on USDA's disaster assistance program can be found at www.farmers.gov/recover. Your local FSA office can provide further information. To find your local service center, please click HERE.
With gratitude,
Nathaniel Moran
Member of Congress
Office Locations
WASHINGTON, DC
1541 Longworth HOB
Washington, DC 20515
Phone: (202) 225-3035
TYLER, TX
1121 ESE Loop 323
Suite 206
Tyler, TX 75701
(903) 561-6349
TEXARKANA, TX
2500 North Robison Rd.
Suite 190
Texarkana, TX
LONGVIEW, TX
101 E Methvin
Suite 302
Longview, TX 75601
MARSHALL, TX
100 N. Bolivar.
Marshall, TX 75671