Honors film week continues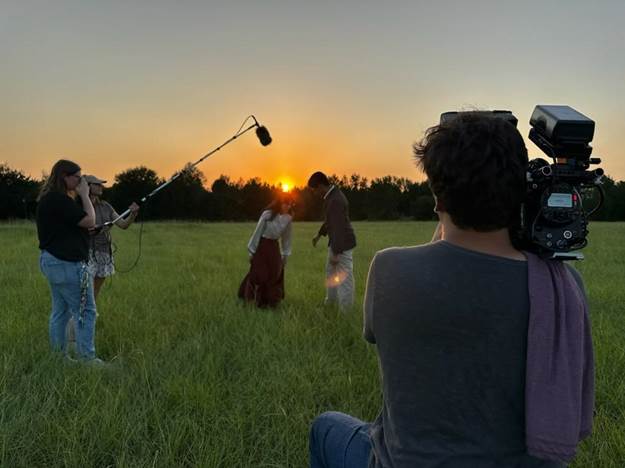 August 10, 2023
Pictured: Aubrey Watkins, Hannah Goldblum, Michelle Calderon, Raul Leija, and Allen Herald with camcorder
By: Dr. Andrew Yox, Honors Director
Members of Honors Northeast and the NTCC Webb Society are in the midst of an intense film week that has taken them, in 100-degree weather, from Lake Bob Sandlin to Lake Nacogdoches.  They are working on their 12th feature-length film on Texas history legends.  This year's script is about the traveling preachers of early Texas.
"In the 1820s, there was an absence of Catholicism in Texas, and a ban on Protestantism.  Our story," notes Honors Director, Andrew Yox, "is about how that situation changed, thanks to the preaching of a few courageous ministers."
Wednesday, the group journeyed to McMahan's Chapel, the oldest Protestant church in Texas, near San Augustine on the border with Louisiana.  Sharron Mills, a leader of that church arranged for the group to have a free dinner.  Kenny Goodson, the composer who has orchestrated four NTCC films thus far, was ironically a former pastor at McMahan's, and he and his wife Ann, who is also an active costume and prop support help for the film series, journeyed alongside the students to be at McMahon's for the event.
At the top of the student group, in unit production, are Michelle Calderon, Raul Leija, and Monse Rivero.  They have been faced with tough choices of what to film when, and with who, amidst kaleidoscopic new realities and possibilities that appear as leads are pursued, and problems develop.  This trio, besides being honors students, each have busy roles on campus in addition, working for student services.  A distinctly new variable in the film picture this year is the unheralded work of NTCC alumnus, Allen Herald, and his associate, Hannah Goldblum. Herald, the producer of several shorter-length films and advertisements, has shown exceptional earnestness and support in helping the film production to achieve a higher level this year.
Administrators at NTCC, and patrons of Honors Northeast also have gone above and beyond in permitting the ambitious scope of this year's film.  Though many names could be mentioned, Delbra Anthony, the Humanities secretary, has helped shore up all twelve feature length films thus far, and has worked overtime to permit this film to occur.  Jerald and Mary Lou Mowery of Mount Vernon have been consistent supporters of the film enterprise with their generous financial gifts.