Workforce Solutions Northeast Texas offers truck driver training scholarships
Workforce Solutions Northeast Texas offers truck driver training scholarships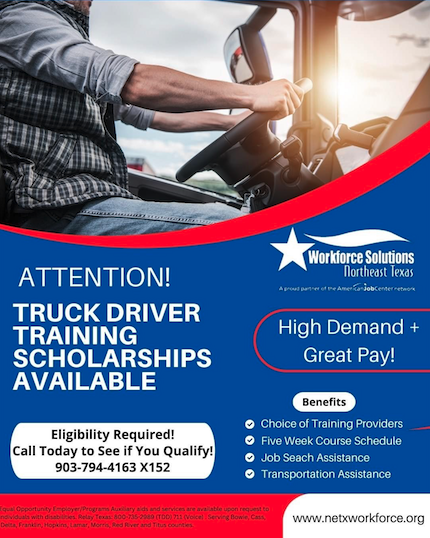 June 22, 2023
NTCC is a proud training partner of Workforce Solutions Northeast Texas, who is currently offering scholarships for eligible individuals to complete truck driver training. NTCC's four-week professional driving academy is participating in the program. New classes start monthly and include 160 hours of training, DOT physical, drug screen, MVR and CDL permit. Students spend 50 hours in the classroom and 110 hours on the road driving.
"This scholarship from Workforce Solutions Northeast Texas is a great opportunity for even more people to take advantage of our CDL training. Drivers are in high-demand nationwide and are being placed into great jobs immediately upon receiving their commercial license," Jimmy Smith, NTCC Director of Continuing Education and Corporate Training, said.
To learn more about the Workforce Solutions scholarship, call 903-794-4163 ext. 152. Those who may not be eligible through Workforce Solutions Northeast Texas are encouraged to reach out to NTCC directly by calling 903-434-8134 or visit www.ntcc.edu/pda for more information. Additional financial aid may be available.
Spanish flyer translation is below: 
¡ATENCION!
FORMACION PARA CONDUCTORES DE CAMIONES
HAY BECAS DISPONIBLES
¡Alta Demanda + Buen Sueldo!
Requisitos de Admisión
¡Hable Hoy Para Ver si Cumple los Requisitos!
*Beneficios*
Selección de Proveedores de formación
Programa de 5 Semanas
Ayuda para la búsqueda de empleo
Asistencia para el Transporte