EMT, paramedic scholarships available
EMT, paramedic scholarships available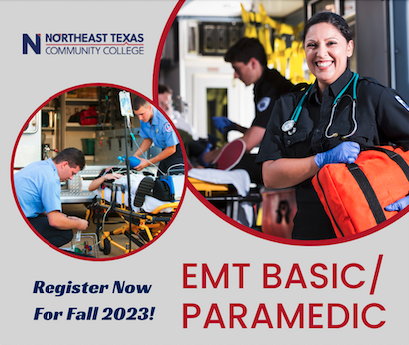 June 22, 2023
Do you have a strong desire to help others? Do you enjoy a fast-paced work environment? If so, a career in Emergency Medical Services (EMS) might be a good option for you – and there has never been a better time to get started. The NTCC EMS Program is part of a special initiative offering up to a full scholarship for Emergency Medical Technician (EMT) Basic and Paramedic students who qualify for entry into the program. Current EMTs who would like to transition to the Paramedic program are also eligible for scholarships.
There is currently a huge demand for EMS workers nationwide and job opportunities are abundant. The average salary for a new EMT is approximately $30,000 per year and the program only takes one semester to complete. EMT Certification is also the starting point for further credentials that can lead to a much higher salary. EMTs and Paramedics work in ambulances, fire departments, industrial settings and in emergency rooms.
"We are struggling to hire qualified EMTs and this is an excellent time to enter the field. Students who complete the certificate can get started in their career right away and they have numerous options to continue their education and move up in the field," Russell VanBibber, EMS Faculty, said. "We have a unique scholarship opportunity available that could help many students complete their EMT Basic at no cost to them, but they must act quickly."
The course offers six college hours toward an associate degree and is a prerequisite for the Paramedic program. Fall classes begin August 28th, so apply today! Day and night classes are available. The program meets Tuesday and Thursday from 8:30 a.m. to noon or 6:00 p.m. to 9:30 p.m. with a clinical component outside of class.
To learn more, visit www.ntcc.edu/ems or contact VanBibber at 903-434-8269 or rvanbibber@ntcc.edu.