Summer Spotlight: Work4College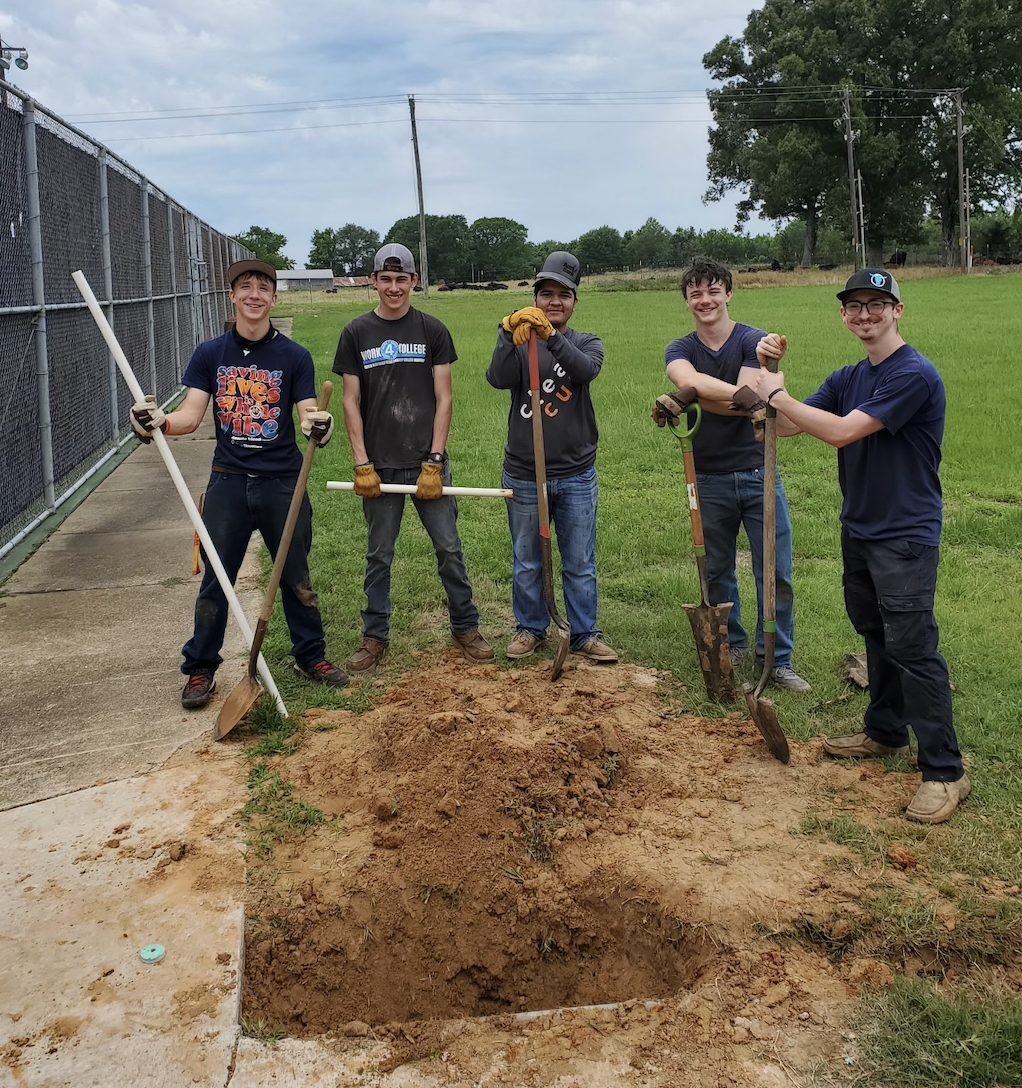 June 14, 2023
Pictured: Plant Services Work4College students show off their hard work.
It is officially summer at Northeast Texas Community College and the campus is buzzing with activity. Over the next few weeks, we will highlight some of the special programs taking place at NTCC this summer. This week's Summer Spotlight feature is Work4College!
The NTCC Work4College (W4C) Summer '23 Program is in full swing. It has made significant strides since its inception nine years ago. This summer it attracted 160 applicants. From this pool, 92 deserving students were selected and assigned job placements. The program's purpose is twofold: to provide students with the chance to attend college without accumulating debt and offer a meaningful work experience that allows students to learn while they earn.
During this 10-week summer program, students will work up to 15 hours per week, earning $15 per hour. Half of their earnings are deposited as spending money, while the other half is allocated towards their future tuition and fees at NTCC. Students also complete one introductory level college course funded by the program consisting of writing and budgeting workshops, table etiquette lessons, and CPR licensing, yet their learning extends beyond the classroom.
The program includes up to 20 diverse learning areas spread throughout NTCC's campus; W4C has also established partnerships with four local high schools (Chapel Hill, Como-Pickton, Harts Bluff, and Winnsboro), enabling their students to participate in the W4C Program and complete the "work element" on their own campuses as well. In their job assignments, some students are putting their social skills to the test while fielding phone calls in Student Services, some are engaging in hands-on work on the college farm, and others are diligently tending to the athletic fields.
The mission of the NTCC Work4College Program is to instill qualities that will benefit them throughout their lives, while also assisting them in achieving a debt-free education. These qualities include a strong work ethic, effective time management, and knowledge of workplace expectations. Students will be able to reflect on their growth as they celebrate their achievements at the summer's end banquet.
We cannot wait to see the accomplishments of all the participating students.
To learn more about NTCC's Work4College Program, visit https://www.ntcc.edu/work4college