NTCC students sweep awards at Red River Honors Symposium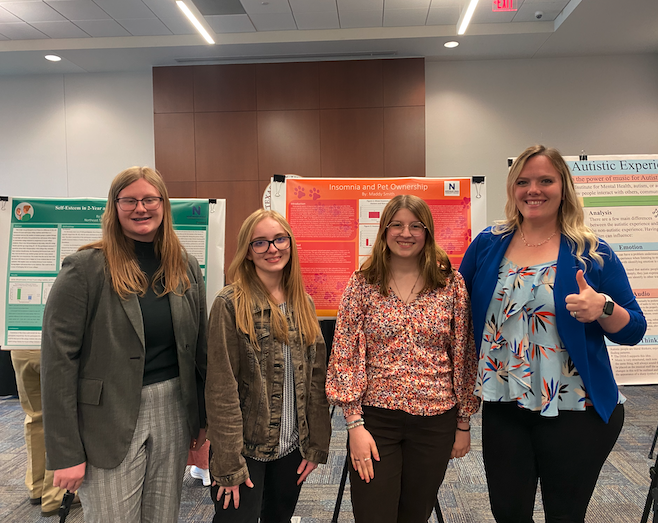 Pictured: Award winners included (from left) Aubrey Watkins, Maddy Smith, Skylar Fondren, and Shea Taylor.
Twelve students from NTCC presented research at the First Annual Red River Honors Symposium at Texas A&M University – Texarkana. Dr. Craig Nakashian, Director of the Academic Honors Program at TAMU-T, invited students from the various Honor societies at community colleges and universities throughout the Red River area to attend and present their research. From NTCC, members of Honors Northeast, Sigma Kappa Delta English Honor Society, Psi Beta Psychology Society, Phi Theta Kappa International Honor Society, and the BioChem Pre-Professional Club showcased their work.  Students enjoyed lunch and a keynote address from Jacqueline Russell.
The judges included university research specialists, who questioned the students about their research findings and methodology.  Students competed in the poster and oral presentation categories.
In the oral presentation category, Shea Taylor was named a co-winner for her presentation entitled "How A Growth Mindset Sets You Up For Success." She presented specific attitudes and activities to cultivate a resilient mind-set, making one more effective at overcoming obstacles and becoming successful.
In the poster category, NTCC students swept the top three spots. Aubrey Watkins won first place for her research on "Self Esteem in 2-year and 4-year college students." Her detailed findings suggested that the increased opportunities for engagement at a 2-year college, coming early in one's college career, more positively impacted students' self-esteem. After learning of her win, she noted that "Since taking the psychology-statistics seminar this past semester, I have learned a lot about human behaviors and refined and improved my math knowledge. In addition, through the research project, I used knowledge from both courses and developed a topic I could confidently and proudly share with others. I would not have been able to do this without the help of my excellent teachers, Dr.Skaar and Dr. Wilhite."
Second place went to Maddy Smith for her presentation on "Insomnia and Pet Ownership," where she analyzed sleep patterns and disruptions for pet owning and non-pet owning sleepers, further breaking the findings down into the types of pets. She thoroughly enjoyed the symposium experience, noting "The contest was a great experience and it was nice to be in an environment with other highly intelligent students."
Third place went to Skyler Fondren, for her presentation entitled "The Autistic Experience: Music Edition." Her research pointed out that although music affects everyone, neurodivergent people (those with a mental function differing from the "typical" norm) appear to have more uses for music, as well as a different experience with music in comparison to neurotypical people. This is partially due to the autistic brain being extremely sensitive to sensory input, whereas a neurotypical brain can easily filter out unneeded sensory input. Music for the autistic person can enhance things like pitch, emotion, structure, and self-regulatory behavior, while also playing a role during sensory overload episodes.