Shelby centennial celebrated in Pittsburg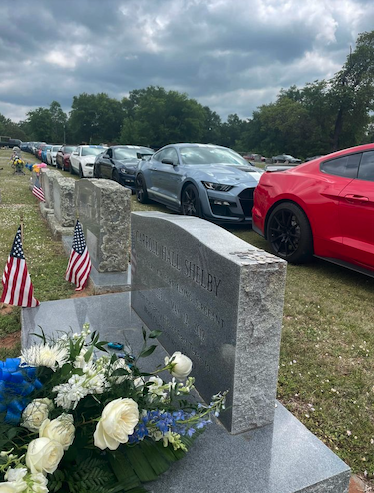 May 4, 2023
Pictured: Shelby enthusiasts lined up to pay their respects at a historical marker dedication at Carroll Shelby's grave in Leesburg, Texas. 
The memory of Carroll Shelby was alive and well in Pittsburg, Texas last week as the 100th anniversary of his birth was celebrated along with the Texas Hotlink Festival. Shelby was honored April 29th with a memorial car show, a historical marker dedication at his grave site in Leesburg and a special Shelby Centennial Reception at the Northeast Texas Community College Culinary School. Carroll's grandson, Aaron Shelby (Co-President of the Shelby Foundation and board member for Carroll Shelby International), joined members of Team Shelby and the Shelby Cobra Association of Texas (SCAT) in the festivities.
"We are so thankful that Aaron and Shelby enthusiasts from far and wide came all the way out to Pittsburg to celebrate Carroll's legacy. Despite all he achieved in his life, Carroll had a special connection with his home town and it was great to see both of those worlds blend for the day," Dr. Jon McCullough, NTCC Executive Vice President for Advancement, said.
During the evening Centennial Reception, Pittsburg Mayor David Abernathy read a proclamation commemorating Shelby's contributions to Pittsburg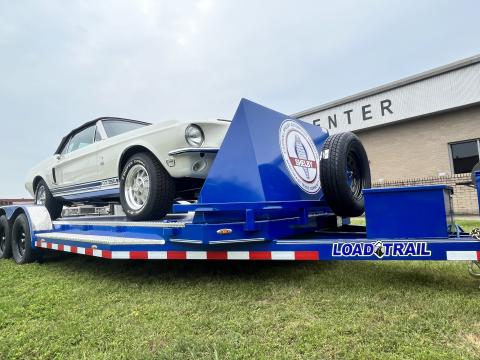 and presented Aaron Shelby with a commemorative coin and a key to the city. Scott Black, of Team Shelby, gave remarks at the event and announced that Team Shelby took up a collection to have a replica of the Leesburg historical marker created for the Shelby family.
At the end of the evening, Jeff Sol, President of SCAT, conducted a live auction that raised almost $10,000 for NTCC Shelby Automotive scholarships. It was also announced that Load Trail donated a customized car hauler, valued in excess of $10,000, to the NTCC program. Along with other Shelby Automotive Program-related uses, the trailer will transport a rare Shelby convertible that will be auctioned off at Barrett-Jackson to benefit scholarships later this year.
"We were so excited to learn that the branded Shelby car hauler custom built by Load Trail was donated to the program. It will be put to great use as we transport vehicles to various events like Barrett-Jackson and SEMA in Las Vegas. The support we receive from the Shelby Foundation, the Shelby family and all of the affiliated organizations is just amazing. Shelby cars have a way of bringing people together and the Centennial event was a great example of that," Ron Luellen, Director of the NTCC Shelby Automotive Program, said.
The Carroll Shelby Foundation has been a major supporter of the program since Carroll Shelby himself took an interest in providing opportunities for students in Northeast Texas. Visit www.shelbyautotech.com to learn more about the program. In addition to everyone who participated in the event, NTCC would like to thank Sabin Warrick, organizer of the Texas Hot Link Festival, for coordinating the food for the Shelby Centennial Reception.