2023 Gospel Fest at Loretta Lynn's Ranch Inbox
Gospel Music Fest at Loretta Lynn's Ranch
CHANGE IN DATES,
AUGUST 23-27
Hurricane Mills, TN (April 25, 2023) – Organizers of the 2023 Gospel Music Fest announce a change in the dates." The event will-be held at The Loretta Lynn Ranch, on August 23 through August 27, 2023. This years' Gospel Fest will feature family entertainment from beginning to end. Gospel music is scheduled as well as aTalent Search, "Coal Miner's Car Show," a special Sunday morning service, a CraftFair and selected Round Up Artists. There will also be a bonus "jam session style Sing-Along" on August 23, 2023.
Jeff Sneed of The Sneed Family Ministry Productions, hosts of the Gospel Music Fest, made the announcement today from The Sneed Family office. "We felt like having the Gospel Fest a week early might allow more people to attend without disrupting family plans on Labor Day weekend. Our team has worked very hard to bring a lineup that will be the best Gospel music has to offer. There will be a great mix of Bluegrass Country, traditional Southern Gospel, solid quartet, and great comedy. The Loretta Lynn Ranch is the perfect location to bring music fans. It is a family weekend that everyone will enjoy," proclaimed Sneed.
"Those attending will be laughing, singing and inspired from the minute first note is struck from the stage," Sneed continued.
Perhaps the biggest treat of the Gospel Fest is food personally prepared by "Big Mama," PamSneed. She begins planning these meals months in advance with the heart of good ole Southern food.
The Gospel Music Festival at the Loretta Lynn Ranch will be held in the pavilion at the ranch campgrounds. "We are honored that the Loretta Lynn Ranch would again welcome the return of Gospel Music," said Sneed.
For ticket information: www.itickets.com or www.gospelfest.co.
Craft vendors wanting to participate should call Jeff Sneed at 270-646-0354.
Auto show participants should call Tony Day at 615-388-2873.
TalentSearch participants can register at www.gospelfest.co.
LorettaLynn's Ranch is located off I-40 at Exit 143 in Hurricane Mills, TN. Camping is available by reservation. There are also area hotels nearby.
The SneedFamily is a favorite to their fans. They provide an honest worship experience while providing encouragement.
Watch fort hem on stage as well as on television with their production of "Sneed FamilyMusic." The program is seen in over one million homes each week. The SneedFamily brings music, and interviews from the best in Southern GospelMusic. The show is now available online.
For more information on The Sneed Family, visit www.GospelFest.co
# # #
MEDIA CONTACT:
Candi Combs
Alpha Source Media Group
859-227-7977
candi@candicecombs.lawyer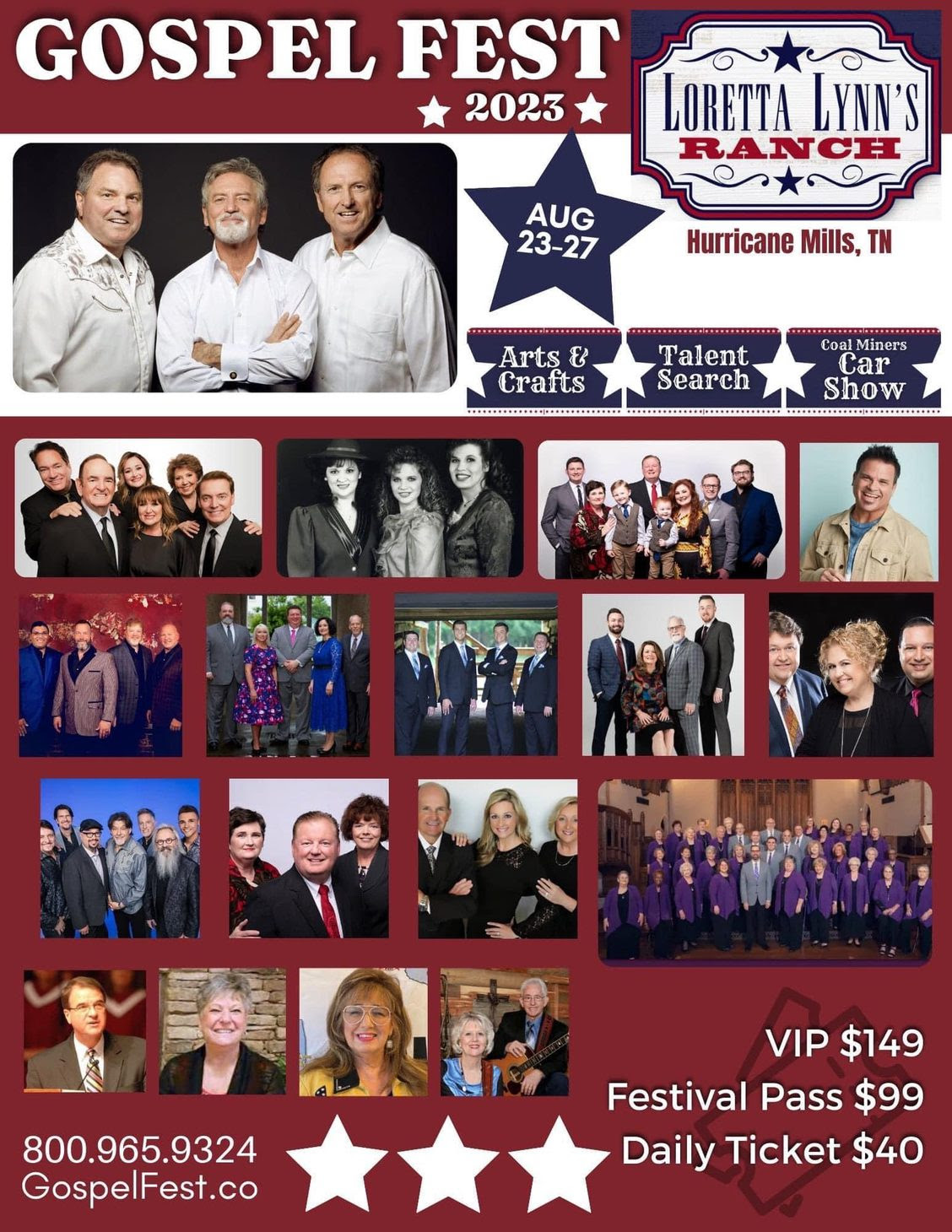 Copyright (C) 2023 Alpha Source Media Group. All rights reserved.