Llano County library supporters declare victory as officials decide not to close all branches
"Llano County library supporters declare victory as officials decide not to close all branches" was first published by The Texas Tribune, a nonprofit, nonpartisan media organization that informs Texans — and engages with them — about public policy, politics, government and statewide issues.
Sign up for The Brief, The Texas Tribune's daily newsletter that keeps readers up to speed on the most essential Texas news.
---
LLANO — Denise Kennedy emerged from the Llano County Courtroom to jubilant cheers from her fellow library supporters, eager to hear what was going on in the cramped meeting room on Thursday afternoon where officials would decide the fate of their local public libraries.
The center of the action was a nondescript government building just north of Llano, and only 35 members of the public were allowed inside to share their opinions on whether the public library should close amid an ongoing lawsuit over the county's removal of books.
"You could tell who was with who — and who wasn't," Kennedy said, describing the divided opinions inside the tight courtroom.
But outside, it was clear what the majority of the Llano residents wanted.
"It's not the county's job to burn the library down," said James Arno, a 10-year Llano resident, moments after he testified.
Arno and Kennedy were among roughly 100 Central Texans who had shown up at the county building to voice their frustration with local officials and their passion for the library.
A crowd too large to fit in the meeting room gathered around a speaker outside that played an unreliable livestream of the meeting. When the county officials' decision was announced, they weren't sure whose side had won.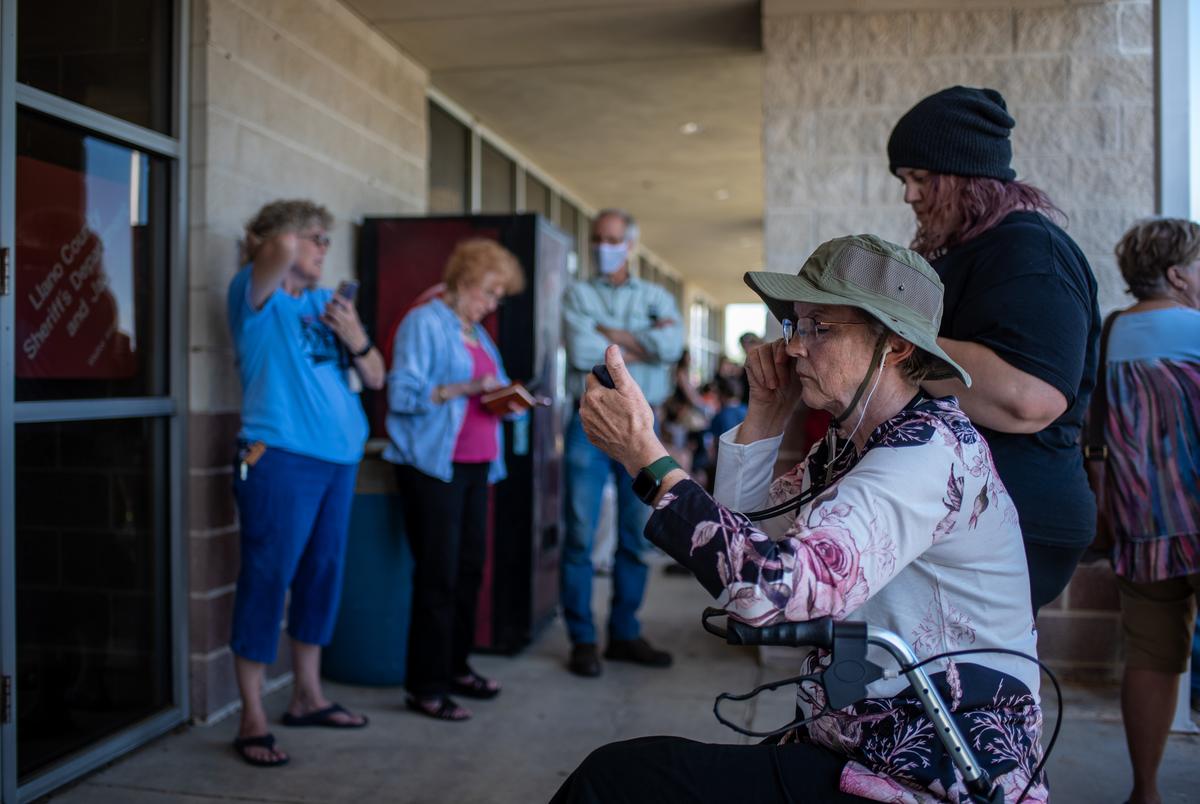 Residents outside the Llano County Sheriff's Office listen to a livestream of a public meeting occurring inside about closing the public library. Credit: Sergio Flores for The Texas Tribune

Just then, another person emerged and shared the news: The Llano library would remain open. Commissioners voted to take the item of the library's closure off the agenda, alleviating the immediate threat.
Thursday's meeting comes two weeks after a federal judge ordered county officials to return to the library system books they'd removed.
County officials appealed U.S. District Court Judge Robert Pitman's order reinstating the banned books, according to court filings. Authorities claimed that the books were removed as part of a "weeding" process in which outdated and irrelevant books are removed from shelves to make room for new ones.
The books that were removed included a title for teens that calls the Ku Klux Klan a terrorist group, Isabel Wilkerson's "Caste: The Origins of Our Discontents" and a comedic children's book with three stories from Dawn McMillan's "I Need a New Butt!" series.
According to a statement from county officials, it was the individuals suing the library who were responsible for endangering the community resource.
"But as we wait for a ruling from the appeals court, a public library simply cannot function if its librarians, county judge, commissioners, and even the volunteers who serve out the goodness of their heart, can be sued every time a library patron disagrees with a librarian's 'weeding' decision," read a statement from the Llano County Judge Ron Cunningham released after the decision was handed down.
In April 2022, seven library patrons sued the county judge, commissioners court, library board members and library system last year, arguing that their First Amendment rights to access and receive ideas had been infringed when officials removed certain books based on their content.
Pitman wrote in a March opinion that the plaintiffs had "clearly met their burden to show that these are content-based restrictions that are unlikely to pass constitutional muster."
For those hoping to keep the library open, the announcement brought much welcomed relief.
Librarians hugged each other, children galloped on the patch of grass out front, the group let out a collective exhale. It was a storybook ending to a saga that began almost exactly one year ago when seven Llano County residents sued local authorities for restricting and banning books.
Tina Castelan was born and raised in Llano. At 6 years old, she attended the library's first summer reading program in 2001. It would only make sense that 18 years later Castelan would become the children's librarian — only to be terminated three years later for protesting the removal of library books.
She said the library was a place for her to escape the world during her youth, a place to relax. Llano needed a place for young people to go find books that reflected their lives and experiences.
"That's why this is so tantamount, because this library saved my life," Castelan said.
Amanda Starkes, another former Llano librarian, said that the majority of people gathered outside had been bracing for bad news. But she breathed a sigh of relief upon hearing officials would not close any of the three branches associated with the county library system.
"This is a victory for everyone in the county," Starkes said.
Debates over books, and their appropriateness, are not unique to Llano. Across the state, Texas politicians and some parents are trying to restrict access to books they say are inappropriate. But literacy advocates say many of the titles Texans are targeting are mostly about sexuality and race.
The Texas Senate on Thursday approved a bill that could put new regulations on public school libraries. Senate Bill 13 would let parents receive notice each time their children obtain school library materials and prohibit the acquisition or retention of "harmful" and indecent materials.
With the immediate threat gone, Kennedy said she could look forward to hosting her grandsons from Austin at the Llano library's summer programming for kids. But despite the news, she was not convinced the library's future was safe.
"I think we better be really damn vigilant or we'll be back here in a couple of months," she said.
Alejandro Serrano contributed to this story.
---
We can't wait to welcome you Sept. 21-23 to the 2023 Texas Tribune Festival, our multiday celebration of big, bold ideas about politics, public policy and the day's news — all taking place just steps away from the Texas Capitol. When tickets go on sale in May, Tribune members will save big. Donate to join or renew today.
This article originally appeared in The Texas Tribune at https://www.texastribune.org/2023/04/13/llano-county-library-books/.
The Texas Tribune is a member-supported, nonpartisan newsroom informing and engaging Texans on state politics and policy. Learn more at texastribune.org.