Skylar Fondren named Coca-Cola Academic Team Gold Scholar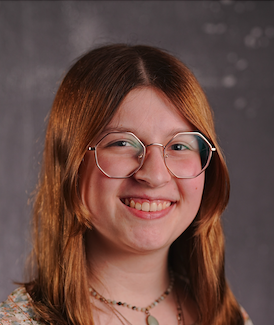 April 6, 2023
Skylar Fondren, a Presidential Honors Scholar at Northeast Texas Community College, has been named a 2023 Coca-Cola Academic Team Gold Scholar and will receive a $1,500 scholarship.
Skylar was named a Leader of Promise by Phi Theta Kappa in 2021 and has been very active in Honors Northeast, Phi Theta Kappa, and NTCC's Journalism program.
Skylar's accomplishments within Honors Northeast include becoming the 2022-23 student representative of the Great Plains Honors Council and her award-winning work on news deserts. Her research efforts culminated in a Britt poster award with the GPHC at Wichita, Kansas in 2022, and a first-place McGraw Hill poster contest award in 2022.  She directed and wrote the 2022 honors film on Texas suffragettes that won a 2022 Caldwell Chapter Project Award in El Paso and was one of the three scholars to secure NTCC's first Portia Gordon Awards from the East Texas Historical Association.
Dr. Andrew Yox, Honors Director, noted "Fondren is a brilliant student speaker who has excelled in scholarship and leadership.  Her multi-prize-winning work on news deserts, presented at the Mount Pleasant library in 2022, and many other venues, represents a fascinating contribution to the scholarship on Northeast Texas. We are beholden to her bold and meticulous approach to life."
Skylar serves as the co-editor for NTCC's award-winning college newspaper, The Eagle. At the most recent Texas Intercollegiate Press Association (TIPA) meeting Skylar won six awards, including a first place for critical review and third place in the live contest for feature photo. TIPA is the oldest collegiate media organization in the country. It consists of 77 public and private two-year colleges and four-year universities in Texas that teach journalism or have student publications. The annual awards honor excellence in student media.
CNN legal counsel Frank LoMonte, a keynote speaker at the conference, referenced the concept of "news deserts" and later asked for Skylar's contact information when he learned of her research project.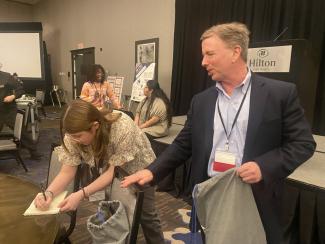 Mandy Smith, Journalism Professor, noted "Fondren recognizes the significance of journalism in general and how important it is to a democratic society.  Her research in Honors has helped her to be a really good journalist. She thinks about the role she is playing within the community and the importance of journalism in keeping the community informed.  I've had a lot of journalism students but no one has been so interested in pursuing it at the local community level. She has a real heart for the profession."
Skylar noted that "When I found out I received the scholarship, it had been at the end of a long, tiring day. Reading the email telling me I won was just the pick-me-up I needed!"
Skylar plans to major in journalism at the University of Texas at Arlington after graduating from NTCC. "I am so excited to be a part of the Coca-Cola Gold Scholars. It's a great achievement that gets me one step closer to meeting my goals of graduating college debt-free."
"The Coca-Cola Scholars Foundation has a long history of providing financial assistance to outstanding students at community colleges," said Jane Hale Hopkins, President of the Coca-Cola Scholars Foundation. "We are proud to partner with Phi Theta Kappa to make it possible for more deserving students to achieve their educational goals and support tomorrow's leaders of the global community."
Coca-Cola Academic Team members will be recognized in both local and statewide ceremonies and will also be recognized internationally during Phi Theta Kappa's annual convention, PTK Catalyst, to be held in Columbus, Ohio, April 20-22.
Phi Theta Kappa is the premier honor society recognizing the academic achievement of students at associate degree-granting colleges and helping them to grow as scholars and leaders. The Society is made up of more than 3.8 million members and nearly 1,300 chapters in 11 countries, with approximately 240,000 active members in the nation's colleges. Learn more at ptk.org.
Previous Coca-Cola Gold Scholars from NTCC have been Jessica Rogers, Isaac Griffin (2012), Kayleah Cumpian (2015), Isaac Burris (2016), Alicia Cantrell (2018), Jacob Lambie (2020), and Jalyn English (2021).