NTCC splits series with Navarro
Softball splits series with Navarro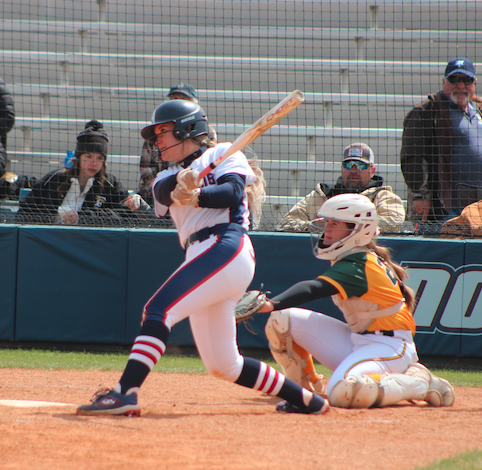 March 29, 2023
Carson Zachry at bat for the Eagles.
By: Justin Hargrove, Assistant Athletic Director
Northeast Texas Community College Softball traveled to Corsicana, Texas on March 25th to take on Navarro College, coming away with one win and one loss. After losing in extra innings, 6-5 in game one, NTCC bounced back for a 4-1 victory in game two.
In game one of the series, Navarro scored first in the bottom of the third to take a 1-0 lead. The Eagles answered back in the top of the fourth to tie the game at 1-1 when Raelyn Kinard (Lake Jackson, Texas) would hit her first collegiate home run and first ever home run of her career.
Navarro would score two runs in the fifth inning to regain the lead 3-1 and tried to put the game away with two additional runs in the sixth inning to move the score to 5-1, however NTCC would rally to tie the game in the top of the seventh inning when the Eagles plated 4 runs.
In the top of the seventh, NTCC would get a one out walk, hit by the pitch, and then another walk to load the bases. Carson Zachry (Mount Pleasant, Texas) came up with two outs and sent an 0-1 pitch out of the park for a grand slam to tie the ball game.
Both teams would go scoreless in the first extra inning, the eighth inning, before Navarro ended it in the ninth scoring one final run to win 6-5. Bralynn Henderson (West Columbia, Texas) and Daphne Bogenschutz (White Oak, Texas) would both see time in the circle for NTCC in game one.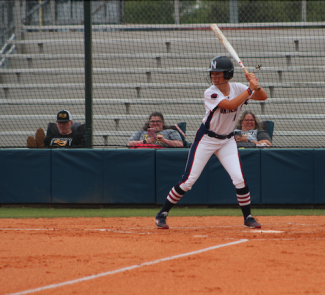 In game two, the Eagles sent Anna Green (Ore City, Texas) to the circle for the start and she would go the distance in the 4-1 win for NTCC. Green let the defense do the work for her as she induced thirteen fly outs, two ground outs and four strike outs on the day.
Neither team would score the first few innings until Navarro got on the board for their lone run in the bottom of the fourth with a solo home run to lead 1-0. NTCC would climb back into things with a two run fifth inning and then put the game away with a two run sixth inning as well to bring the final score to 4-1. Kinard followed her game one homerun with a two for three performance in game two to lead the Eagle offensive effort.