Jordan Chapin named to All-USA Academic Team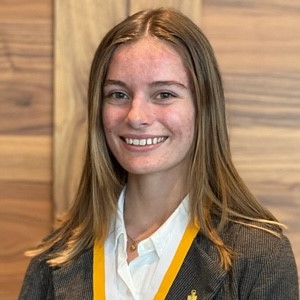 March 8, 2023
Jordan Chapin, a student at Northeast Texas Community College, is one of 20 college students in the nation to be named to the prestigious All-USA Academic Team and will receive a $5,000 scholarship.  More than 2,400 students were nominated for this award.
Chapin serves as the Phi Theta Kappa Texas Regional President, in addition to helping run the Alpha Mu Chi chapter on the NTCC campus. Last summer she participated in a Research Experience for Undergraduates (REU) at Texas A&M University Commerce funded by the National Science Foundation. A chemistry major, Chapin will be transferring to the University of Texas at Tyler School of Medicine this fall where she will complete her studies in clinical pharmacology.
Chapin will be recognized during the American Association of Community Colleges' (AACC) convention in April.  In addition to the scholarship funds, recipients will be presented with commemorative medallions, and their college presidents will receive commemorative obelisks.
When learning of her recognition, Chapin stated "When I got the email, I was so excited! I feel like I'm one step closer to achieving my goal of becoming a pharmacist."
Team members were selected for their outstanding intellectual achievement, leadership, community, and campus engagement.  The All-USA Academic Team is sponsored by Cengage, with additional support by Phi Theta Kappa and AACC.
"We are deeply inspired by the achievements of this year's All-USA Academic Team.  With so much focus and pressure on which post-secondary institution a student attends, these students show that the real keys to success are hard work and determination," said Edwin Robles, Senior Vice President and General Manager, US Higher Education and Canada, Cengage.  "Community colleges play an important role in providing affordable education that helps students transition successfully to the workforce or a 4-year institution. Despite facing signification enrollment headwinds since the pandemic, community colleges have been the most innovative in taking steps to make learning more flexible, affordable, and accessible.  We are proud to support these institutions and their students in their continued success."
The All-USA program is widely recognized as the most prestigious academic honor for students attending associate degree-granting institutions.  Each college may nominate two students for showing intellectual rigor and demonstrating academic achievement, leadership, and civic growth.  The program recognized students who extend their community college education to better themselves, their schools, and their surrounding communities. Phi Theta Kappa is the premier honor society recognizing the academic achievement of students at associate degree-granting colleges and helping them to grow as scholars and leaders. The Society is made up of more than 3.8 million members and nearly 1,300 chapters in 11 countries, with approximately 240,000 active members in the nation's colleges.
Jordan Chapin is the third student from Northeast Texas Community College to be named to the All-USA Academic Team.  Brenda Godoy received the honor in 2018 and Noah Griffin in 2014.