Thirty-first semester trip for Honors students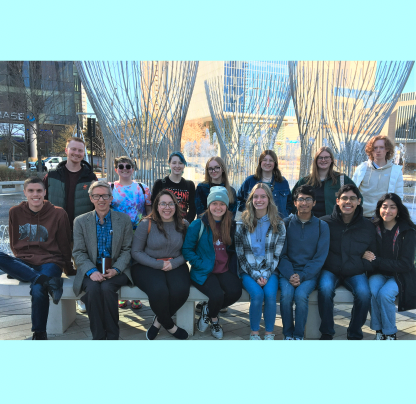 February 2, 2023
Pictured: Garrett Phillips, Skylar Hodson, Hope Kelly, Madellynn Smith, Skylar Fondren, Aubrey Watkins, Sam Pollan, Luke McCraw, Dr. Andrew Yox–Honors Director, Adri Gutierrez, Alyssa Ochoa, Jordan Chapin, Victor Diaz, Raul Leija, Michelle Calderon.
By: Dr. Andrew Yox, Honors Director
Experiencing different environments often inspires one to try new ideas.  Thus, for the students of Honors Northeast, a travel tradition begun in 2008 continued as they visited a major city, in this case, Dallas, Friday, 27 September. The group rendezvoused first at the Greenville Starbucks, before heading on to Dallas' Klyde Warren Park, the Dallas Museum of Art, and North Park Center. Some hiked at Oak Point Park, but nearly all skated at the Galleria before heading on to the theatre production at the Granville Arts Center in Garland, A Few Good Men, by Aaron Sorkin.
The patrons of Honors Northeast have made these semester trips possible, most particularly Drs. Jim and Paula Archer.  The Archers have supported liberally every trip, and in the fall of 2020 when a trip was inadvisable because of COVID, they still supported a fun get-together at Daingerfield Park.  In fact, the honors trips are a carryover of an older NTCC tradition, Dr. Archer's semester reward/culture trips with the chemistry club.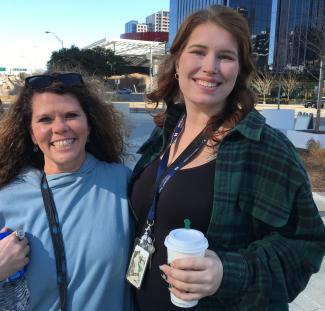 The trip would have been equally impossible without the generosity of two NTCC employees who drove students throughout the eighteen-hour day.  Savannah Calhoun, an instructor for Funeral Services, and Diane Ramsay, the Communities-In-School Coordinator for Mount Pleasant Junior High, not only picked up minivans on Thursday, but kept up with the six-stop itinerary, and big-city traffic the following day.  This sacrifice of their time was even more notable as Ramsey was scheduled to return to the DFW area the following day, and Calhoun devoted the time allotted to the theatre production to study.
When asked what was her favorite part of the Dallas Museum of Art (DMA), Presidential Scholar, Hope Kelly answered without hesitation—the "Impressionists."  The great Impressionist, Claude Monet indeed has some marvels at the DMA, two in particular that are centered in the colors of the cyan family.  Other scholars enjoyed other facets of the trip.  Luke McCraw preferred the theatre production, exclaiming "that was great!" at the conclusion of a production where unusual transformations and twists serve to detail the corruption of power. Honors student council president, Skylar Fondren and Sam Pollan, the 2022 film producer, were eager to skate; Garrett Phillips seemed to drink in all the experiences, and enjoyed non-stop debating during the five hours of transit time.
Honors Northeast, the honors program at NTCC is accepting applications for the 2023-24 school year.  1 March is the deadline for an optimal scholarship.  Applications are online here. Talented college and high school students interested in a transformative experience, high school seniors, homeschoolers in transition, counselors, and parents are welcome to contact Dr. Andrew P. Yox, Honors Director, at ayox@ntcc.edu.