Honors scholars to address regional themes at Lunch & Learn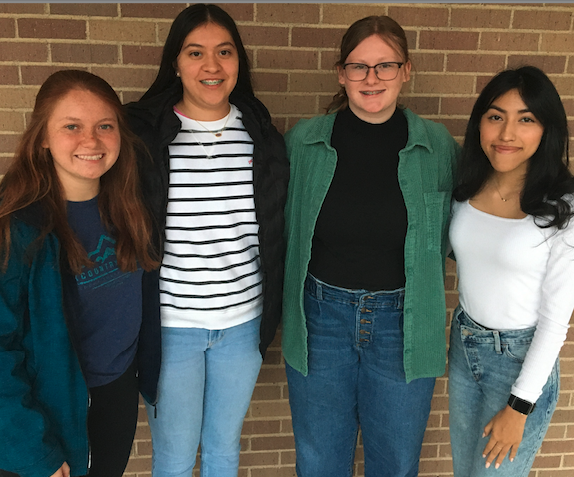 February 2, 2023
Pictured: Alyssa Ochoa, Neida Perez, Aubrey Watkins, and Michelle Calderon.
By: Dr. Andrew Yox, Honors Director
Those interested in learning more about cutting-edge issues relating to the history of modern Texas are welcome to a free Lunch & Learn at the Mount Pleasant Library, Thursday, 23 February, 12:20-1:20 p.m.  The series of presentations will occur in the library's community room, with free pizza, salad, drinks, and dessert to all who RSVP with Dr. Andrew Yox at ayox@ntcc.edu by 5 p.m. on 22 February.
The donors of Honors Northeast, the honors program at NTCC, have again made this Lunch & Learn possible. This will be the fourth annual session of the series which began in 2018, and resumed in 2021, after a two-year gap due to COVID-19.
The NTCC scholars who will present have all been accepted for other presentation venues this spring in El Paso, and/or Wichita Falls, Texas.  The presenters and topics include:  Alyssa Ochoa who will trace the long road of the dairy business to excellence in Texas, Neida Perez who interprets the history of reoccurring wars between Texans and pathogens, Aubrey Watkins who will make the case for rise of the Cowboy Church as a modern phenomenon, and Michelle Calderon, who will cover the story of Minnie Fisher Cunningham. Cunningham was the lead suffragette who helped make Texas the first Southern State to adopt the Nineteenth Amendment, giving women the vote.  Cunningham's story will also serve as a topic for the annual film premiere of Honors Northeast, this 24 March.
Guests are welcome to ask questions and participate in the discussions at the conclusion of each presentation. Anyone with questions about the event are welcome to write Dr. Yox using the email above.