Two Presidential Scholars win Eckman Awards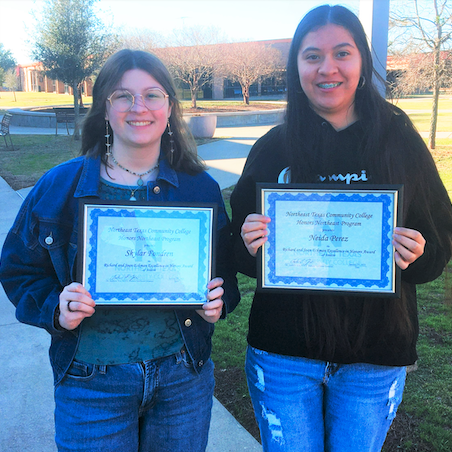 January 24, 2023
By: Dr. Andrew Yox, Honors Director
For their performance in the fall of 2022 in challenging honors seminars at NTCC in relation to their peers, two Presidential Scholars will win $100 checks.  Sophomore Skylar Fondren, president of the honors student council, obtained the highest combined grade in the Humusic Seminar.  Neida Perez, a recently promoted phenomenon of the BioTex Seminar, scored the highest among first-year scholars.
"There are some unprecedented aspects about our Eckman winners from last fall," notes Dr. Andrew Yox, Honors director.  "Both Fondren and Perez not only won the Eckmans but became our two Boe nominees, this year, as judged by our honors committee, for their excellent scholarly essays.  They thus also are our college's entries in the Boe competition of the Great Plains Honors Council. In addition, Skylar Fondren, author of this year's film script, has now added her Eckman to an unprecedented award sequence that includes the Portia Gordon Award of the East Texas Historical Association last fall.  First-year scholar, Neida Perez, on the other hand, ranked number one across the board in her seminar experience: in Biology 1406, in conceptualization, in Texas history, and in assembling perhaps the best interdisciplinary essay ever– of the BioTex Seminar.  Her twenty-five-page essay with seventy endnotes and four rare images concerned the history of the response of Texans to pathogens.
An anonymous donor has funded now twenty-two Eckman Awards at NTCC in memory of the late Richard and Joan Eckman.  Richard Eckman was a long-time inventor for Dresser Industries, a signature Texas oilfield corporation.  Many NTCC Eckman Award winners such as Verania Leyva (2019, 2020) Matthew Chambers (2017, 2018), Chesney Davis (2017), and Brenda Godoy (2016, obtained excellent transfers.  A 2019 Eckman winner, Jordan Whelchel, won a full-ride to Rice University. Last fall, four-time Eckman-winner Aaliyah Avellaneda won a full ride to Southern Methodist University.
Skylar was homeschooled, and is the daughter of John and Holly Fondren of Avinger. Neida is a recent graduate of Mount Pleasant High School, and a daughter of Luciano, and Ana Perez.