TEXAS A&M AGRILIFE HONORS JASON ELLIS WITH VICE CHANCELLOR'S AWARD IN EXCELLENCE
January 13, 2023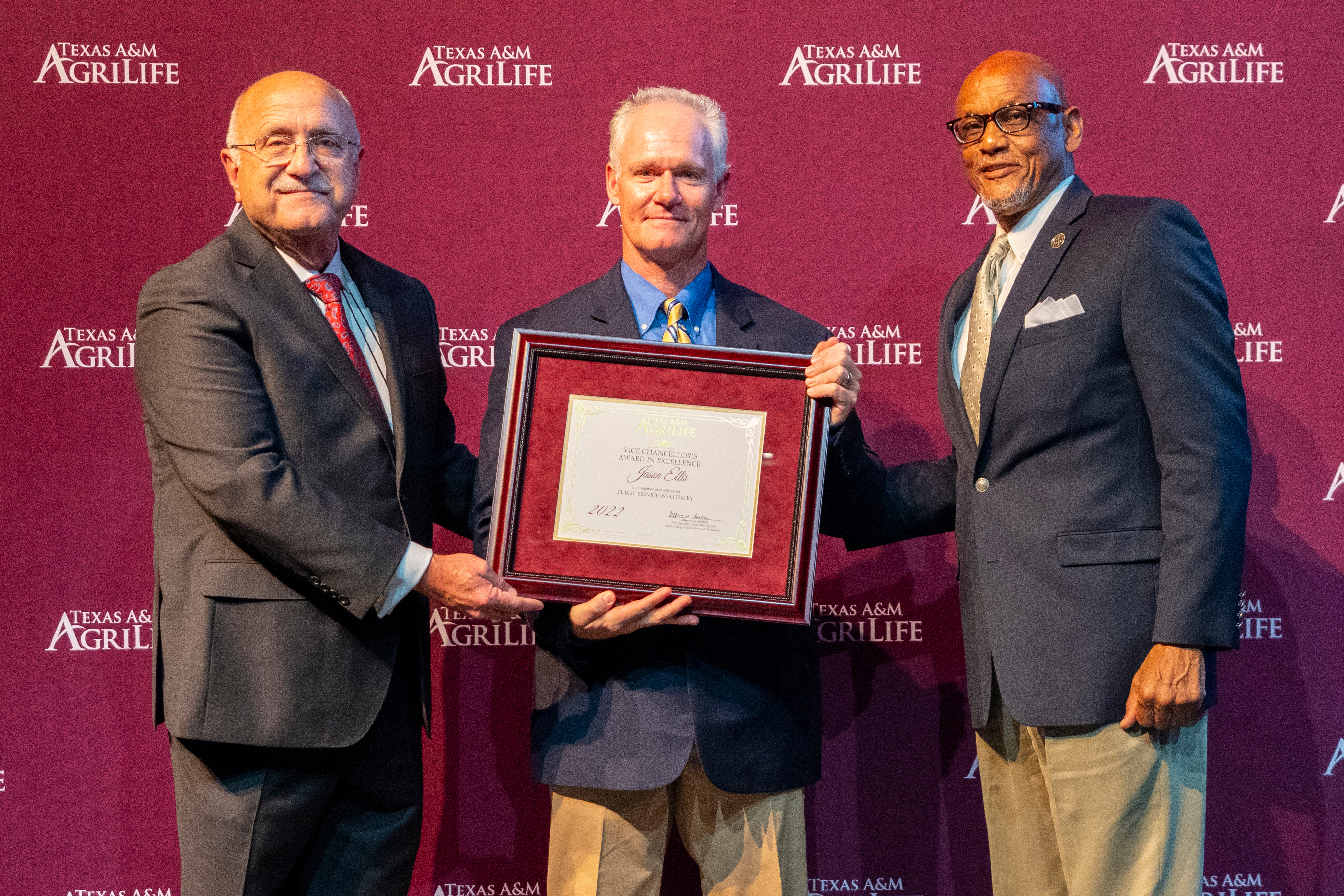 Texas A&M AgriLife honors Jason Ellis with Vice Chancellor's Award in Excellence

COLLEGE STATION — Texas A&M Forest Service District Forester Jason Ellis has been awarded the 2022 Vice Chancellor's Award in Excellence for Public Service in Forestry.
The award, the highest employee award given by Texas A&M AgriLife, was presented Jan. 12 on the campus of Texas A&M University in College Station.
Ellis has worked at Texas A&M Forest Service for 20 years. Since 2006, he has managed the Jacksonville District, a three-county area on the western fringe of the Texas Piney Woods that includes the 2,788-acre I.D. Fairchild State Forest.
"As a District Forester, Jason has excelled in assisting non-industrial private forest landowners with the sustainable management of their forestlands," said Jordan Herrin, Texas A&M Forest Service Regional Forester for East Texas. "Jason is looked upon, by both the landowners he serves and his peers in the field, as not only a technical expert but also an excellent practitioner of the principles in which he recommends."
Ellis and his team have done extensive work to restore areas of Fairchild State Forest to native shortleaf pine habitat. Ellis has implemented projects to advance forestry practices that promote multiple uses, including timber harvesting, habitat management for endangered species like the red-cockaded woodpecker, and recreation. He uses different areas of the forest to demonstrate to landowners the benefits of reforestation, prescribed burning, mulching and herbicide applications. Ellis and his staff hold numerous workshops, tours, youth hunts and Eagle Scout projects at Fairchild State Forest, using the land to showcase best practices and build relationships.
Ellis credits his staff for making the Jacksonville District a model of good forestry.
"We're managing intensively, which means more time and more effort, not just from me but from my staff," he said. "I'm very fortunate to have a solid team, and I don't think I'd be receiving this award unless I had really good people around me."
Al Davis, Texas A&M Forest Service Interim Director, said Ellis is known as a mentor to those around him and exhibits the tenets of Aldo Leopold's land ethic philosophy, which connects care for people with care for the land.
"Jason Ellis is a sterling example of a selfless servant. As a leader of people, on a routine basis, he exhibits a commitment to their safety, technical and professional development and their well- being. Simply stated, he cares," Davis said.
The Vice Chancellor's Award in Excellence program was established in 1980 to recognize the commitment and outstanding contributions of faculty and staff across Texas A&M AgriLife and provide opportunity to celebrate the achievements of those honored. Learn more at https://agrilifeawards.tamu.edu.