AAA Texas: Statewide Pump Price Average Rises with More Expensive Crude Oil Prices
AAA Texas: Statewide Pump Price Average Rises with More Expensive Crude Oil Prices
The statewide gas price average in Texas is $2.75 for a gallon of regular unleaded fuel, according to the AAA Texas Weekend Gas Watch. That price is 13 cents more than on this day last week and is 13 cents more per gallon compared to this day last year. Of the major metropolitan areas surveyed in Texas, drivers in El Paso are paying the most on average at $3.25 per gallon while drivers in Corpus Christi are paying the least at $2.60 per gallon. The national average price for a gallon of regular unleaded is $3.16, which is six cents more when compared to this day last week and six cents more than the price per gallon at this same time last year.

Rising crude oil prices have made their way to gasoline pumps across Texas. Prices for a barrel of crude oil increased from the lower $70s to around $80 just a few days ago. Other factors impacting fuel prices likely include the cold weather snap over the weekend which analysts suggest could temporarily impact fuel deliveries as well as refinery operations. Ultimately, retailers set the final price of a gallon of gas. However, the upward trend may be short-lived as crude oil futures have been pointing down the past couple of days on news of COVID cases increasing in China. China is the world's biggest importer of oil.

"The dynamics of crude oil and gasoline markets continue to be volatile as analysts weigh domestic and international demand outlooks coupled with supply impacts from the war between Ukraine and Russia," said AAA Texas spokesperson Joshua Zuber. "To achieve the best fuel economy to save on higher fuel prices, practice safe driving habits, proper vehicle maintenance and compare gas station prices using an app such as the AAA mobile app."

Drivers in Texas are paying the second lowest gas price average in the country, according to gasprices.aaa.com. Meanwhile drivers in Hawaii are paying the most at $5.03 on average for a gallon of regular unleaded.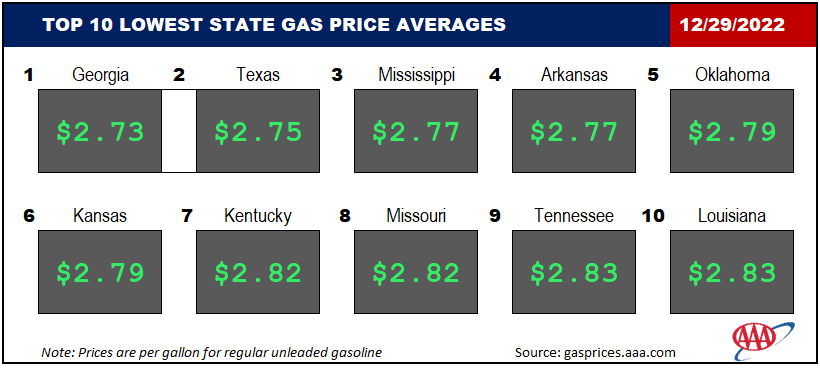 Prices up to date at press time using market prices posted at 3:41 a.m. Motorists can find current gas prices along their route with the free and revamped AAA App for iPhone, iPad and Android. The app can also be used to map a route and learn traffic conditions along that route, find discounts, locate parking, book a hotel and request and track AAA roadside assistance. Learn more at www.AAA.com/mobile.
To help members and non-members identify quality auto repair shops that can assist in the maintenance and repair of their vehicles, AAA offers the Approved Auto Repair program as a free public service. AAA-approved repair facilities meet and maintain high professional standards for training, equipment, cleanliness and customer service. Motorists can look for the Approved Auto Repair sign at local auto repair facilities, or search for a nearby AAA-approved shop online at AAA.com/Repair. AAA Texas branch offices throughout the state can be found by visiting www.AAA.com. Follow AAA Texas on Twitter: @AAATexas and Facebook: www.facebook.com/AAATexas.
View this online
http://tx-aaa.iprsoftware.com/news/aaa-texas-statewide-pump-price-average-rises-with-more-expensive-crude-oil-prices