KC Theatre Presents Deathtrap by Ira Levin December 1st-4th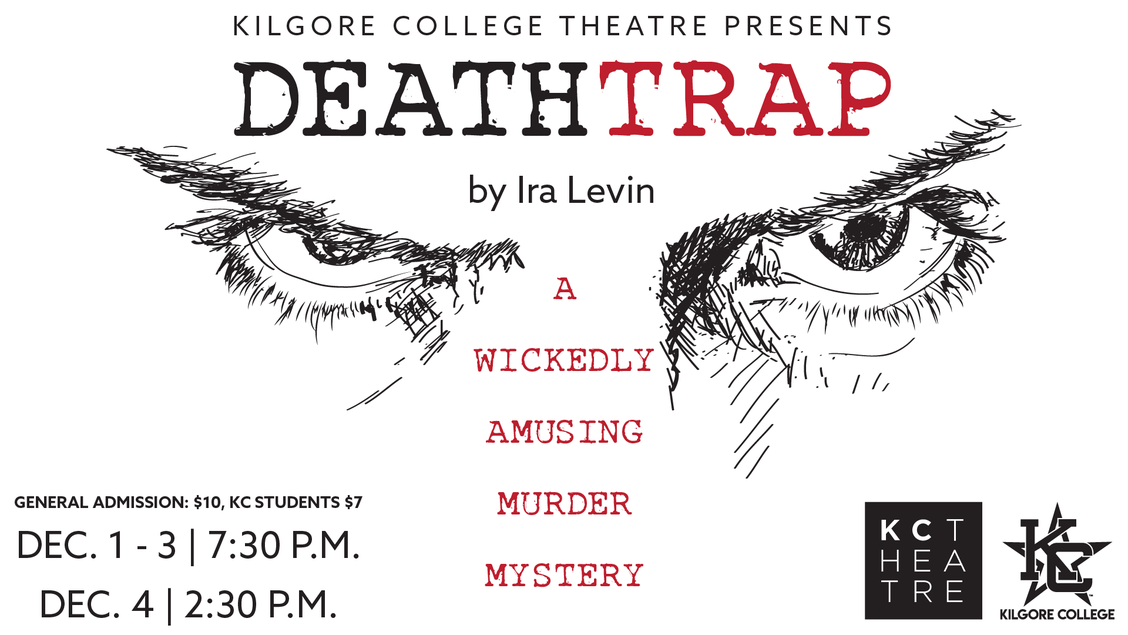 KC Theatre Presents
Deathtrap by Ira Levin
December 1st-4th
Kilgore College Theatre will present "Deathtrap" by Ira Levin at 7:30 p.m. Thursday through Saturday, Dec 1st-3rd, with a matinee performance at 2:30 p.m. Sunday, Dec 4th.
General admission tickets are $7 for KC students with student ID and $10 for adults.
Comfortably ensconced in his charming Connecticut home, Sidney Bruhl, a successful writer of Broadway thrillers, is struggling to overcome a dry spell which has resulted in a string of failures and a shortage of funds. A possible break in his fortunes occurs when he receives a script from a student in the seminar he has been conducting at a nearby college—a thriller that Sidney recognizes immediately as a potential Broadway smash. Sidney's plan, devised with his wife's help, is to offer collaboration to the student for co-credit. Or is it? DEATHTRAP provides twists and turns of devilish cleverness, and offers hilariously sudden shocks in such abundance that audiences will be spellbound until the very last moment.
Discounted ticket pricing is available for groups of 10 or more.
General admission tickets are $7 for KC students with student ID and $10 for adults.
This show is rated PG 13 for mild language and implied violence .
The box office will open one hour prior to each performance.
Purchase tickets online at kilgore.tix.com or by phone at 903-983-8126.
The Van Cliburn Auditorium is located in the Anne Dean Turk Fine Arts Center on the Kilgore College Campus on US-259, east of pedestrian Overpass.
Please arrive at least 20 minutes early on the day of the show to claim your tickets.
For more information, e-mail the KC Theatre Box Office at boxoffice@kilgore.edu.
The play is produced by special arrangement with Dramatists Play Services, Inc.