NTCC's Petrucka to appear in latest Hallmark Christmas movie
NTCC's Petrucka to appear in latest Hallmark Christmas movie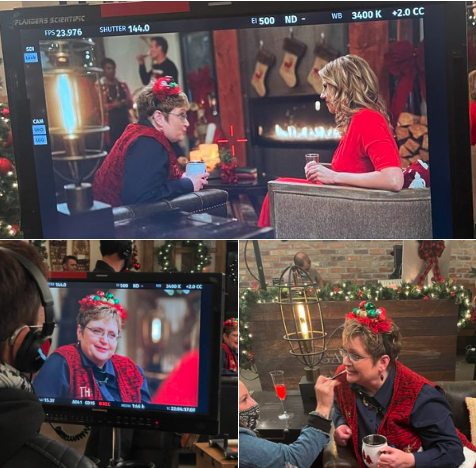 October 26, 2022
It may still be October, but the Hallmark Channel is already gearing up for the holiday season with their Countdown to Christmas movie schedule. NTCC's own Page Petrucka, Associate Professor of Theatre, will appear in the network's latest release, A Cozy Christmas Inn. The film premieres Friday, Oct. 28th at 7 p.m. central on the Hallmark Channel. The movie, which is a sequel to Christmas Under Wraps (2014), stars Jodie Sweetin and David O'Donnell.
"You might recognize my voice in the trailer, but you will see a lot more of me in the film. I hope everyone will check it out," Petrucka said.
Petrucka is no stranger to feel-good holiday movies. This latest release is her fourth Christmas film. She has also appeared in:
A Christmas Wish (2009 – Hallmark)
Christmas Under Wraps (2014 – Hallmark)
Jingle Belle (2018 – Lifetime
"While theatre will always be my first love, I have enjoyed exploring the medium of film. I always seem to play a woman who owns a diner and serves coffee. I don't mind it a bit, either. I get to work with terrific people on fun projects. This one is no exception."
The Hallmark Channel is widely available on cable and satellite TV providers. It can also be streamed through Philo, Sling TV, Frndly TV, Hallmark Movies Now, and fuboTV. Just recently, YouTube TV added the Hallmark Channel to its lineup. It is not available on Hulu or Netflix.
Don't forget to mark your calendar for the NTCC Theatre Department's upcoming production of Almost, Maine in the Whatley Center for the Performing arts December 1-3. Visit www.ntcc.edu/theatre to learn more about the program.