Lagniappe celebrates 10th volume
Lagniappe celebrates 10th volume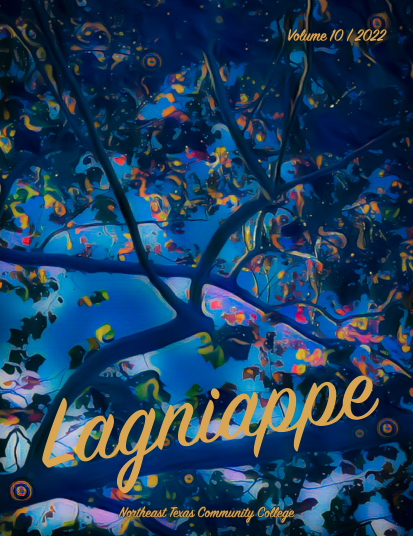 October 27, 2022
By Doc Anderson, Co-Editor-in-Chief, The Eagle
Northeast Texas Community College's literary magazine, Lagniappe, recently released its 10th publication.
The literary and art magazine prominently displays the work of creative writers, traditional and digital artists throughout its pages.
Since its inception in 2013, Lagniappe has consistently published a new and unique volume each year. Writings and artwork are submitted to the staff and the publication is entirely put together by the Lagniappe editors.
Mandy Smith, Professor of English and Journalism, said the magazine consistently wins awards at the Texas Intercollegiate Press Association (TIPA) against major Universities. Smith said the awards speak to the caliber of artists and writers attending NTCC.
"When we go to that conference it's like yeah, our kids did that," Smith said. "We are a little two-year school out here in the middle of nowhere but look at the works our kids produce. We have the best of the best."
Mileah Hall, Assistant Professor of Art, said Lagniappe gives her art students a building block for their future endeavors. She said it gives her students a taste of what it's like to be a professional artist.
"It gives them such a professional look," Hall said. "They've got their picture in there, they've got pictures of them in process and even quotes from the artists."
Hall said artists often get stuck in their works and have difficulty taking a step back. She said the magazine allows the students to view their art through a different lens.
"I think sometimes as artists, we get so into what we are doing," Hall said. We don't step back and see the art for the beauty that it is. We are our own worst critics."
The magazine's name, Lagniappe, is of Louisiana French and Spanish origin and means "something given as a bonus or extra gift." Smith said the title accurately represents the ethos of the magazine.
"The name is perfect for what it is," Smith said. "It's that special little gift we give to NTCC from our students."
Copies of the 10th edition of Lagniappe are out now and can be obtained from the journalism department in H-108. A digital version is also available on Issuu.
The staff is already underway with the 11th publication and is in search of art and writing from any current NTCC students. Submissions can be sent to lagniappeeditors@gmail.com. For more information about Lagniappe contact advisers Mandy Smith at msmith@ntcc.edu or Daniel Sanchez at dsanchez@ntcc.edu.
LINK TO ONLINE PUBLICATION
https://issuu.com/ntcceaglenewspaper/docs/lagniappe_2022_volume_10_-_online