Hurricane Kay to pound Mexico, unleash flooding in California
AccuWeather forecasters are monitoring Hurricane Kay which is expected to bring heavy rain and high winds to Mexico before moving into Southern California.
AccuWeather Hurricane Center – September 8, 2022 – Hurricane warnings and watches were in effect for Mexico's Baja California peninsula Thursday as Hurricane Kay's outer bands began to impact the southern portions of the peninsula with winds and rain.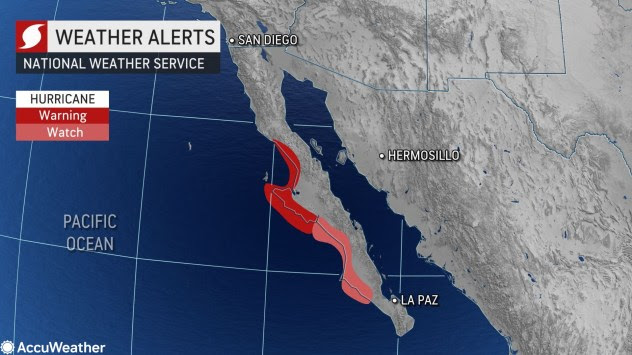 AccuWeather meteorologists say that the worst of the storm's impacts will be felt in Mexico, but the storm will still impact parts of the southwestern U.S. By the end of this week, Kay is expected to send moisture into Southern California, which could douse ongoing wildfires and raise the risk of flash flooding and mudslides in the region.
Kay, which developed into a hurricane on Monday, has been delivering impacts to the Mexican coastline since this past weekend. With plenty of warm water at its disposal, as well as conducive atmospheric conditions, Kay became the eighth storm of the season to reach hurricane status in the East Pacific basin.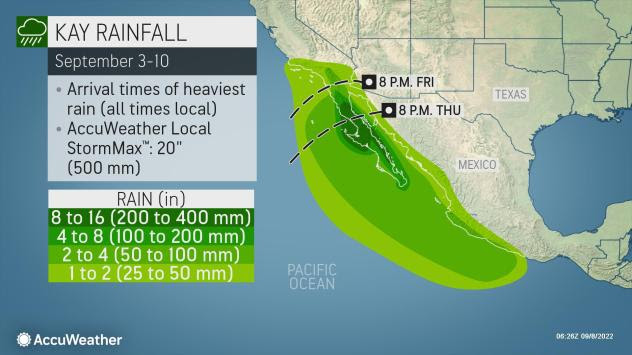 As of Thursday morning, Kay remained a large storm that had sustained winds of 85 mph (140 km/h), making it a Category 1 hurricane on the Saffir-Simpson Hurricane Wind Scale, and was moving north-northwest at 14 mph (22 km/h), according to the National Hurricane Center. Kay was located about 70 miles (115 km) west-southwest of Cabo San Lazaro, Mexico.
People should remember to check the AccuWeather Hurricane Tracker in their  AccuWeather app or AccuWeather.com to follow start and end times for storms, understand vital forecasted impact details for their location such as peak winds, total rainfall, rainfall amount probability graphs, hourly wind and rainfall charts and impact maps of storms as they develop. If the immediate location in view will not be threatened by a hurricane, a list of impacted cities will be made available to raise awareness of what locations are at risk.
About AccuWeather, Inc. and AccuWeather.com
AccuWeather, recognized and documented as the most accurate source of weather forecasts and warnings in the world, has saved tens of thousands of lives, prevented hundreds of thousands of injuries and tens of billions of dollars in property damage. With global headquarters in State College, PA and other offices around the world, AccuWeather serves more than 1.5 billion people daily to help them plan their lives and get more out of their day through digital media properties, such as AccuWeather.com and mobile, as well as radio, television, newspapers, and the national 24/7 AccuWeather Network channel. Additionally, AccuWeather produces and distributes news, weather content, and video for more than 180,000 third-party websites.