Texas Heritage National Bank awards 7th Presidential Scholarship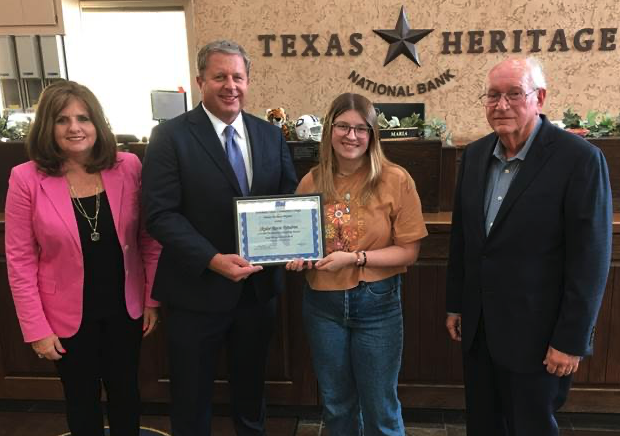 August 25, 2022
Above Left to Right: THNB Executive Vice President–Brenda Howard, President—Russell Alexander, Skylar Fondren and Chairman of the Board–John A. Bryan Sr.
By: Dr. Andrew Yox, Honors Director
Skylar Reese Fondren of Avinger has become the 2022-23 Texas Heritage National Bank (THNB) Scholar of NTCC. The $3,000 scholarship provided by the bank goes this year to the top Presidential Scholar of the NTCC Honors Program.   Fondren will inherit this prestigious designation from other previous vanguard students of NTCC. The scholarship has paved the way for impressive transfer scholarships down the line, to Rice, The University of Texas at Austin, Texas State, North Texas State, and Grand Canyon University.
Last spring Fondren won both a Britt Award of the Great Plains Honors Council, and first prize in the McGraw Hill Poster contest for her work on the formation of a news desert in Northeast Texas. This summer she more than co-authored the honors film script, "A Suffragette Story: Minnie Fisher Cunningham," and directed the filming in Mount Pleasant and Fredericksburg.  She came to NTCC from a homeschool background; her parents, John and Holly Fondren reside in Avinger.
Texas Heritage National Bank traces a lineage back to 1889 when it was called the Bank of Daingerfield.  THNB has expanded rapidly in recent years and now has a presence in six locations– Daingerfield, Omaha, Ore City, Sulphur Springs, Gilmer, and Farmers Branch.
NTCC Honors Director, Dr. Andrew Yox notes "The Texas Heritage National Bank scholarship remains the top prize for honors sophomores at NTCC, and has been a treasure for the whole program, encouraging scholars like Fondren to raise the level of scholarship and academic attainment at the college."