NTCC Board of Trustees honors Frankie King, holds August meeting
Board of Trustees honors Frankie King, holds August meeting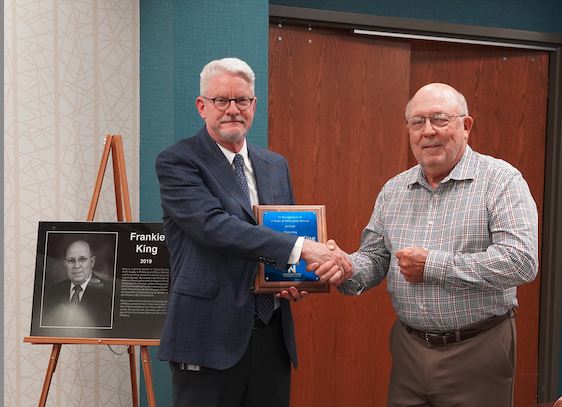 August 25, 2022
The Northeast Texas Community College Board of Trustees met for a public hearing and its regular August Meeting on Tuesday, Aug. 23. A reception was held before the meeting to honor Frankie King, who retired from the board in May. King, of Camp County, served from 2019-2022 in Place One. King was presented with a plaque commemorating his service.
"We are very grateful for Mr. King's service on the board.  His tenure took place during a very difficult time for the college as we were dealing with the pandemic and his steady leadership made such an impactful difference.  Frankie will certainly be missed and we wish him the very best in his retirement," Dr. Ron Clinton, NTCC President, said.
A public hearing meeting on the proposed 2022-2023 operating budget and proposed tax rate was held before the regular meeting. There was no public comment so the hearing was adjourned.
In the president's report, Clinton said that the fall semester has started off on a positive note, with a 1.9% increase in enrollment as of August 23.
"It is still early and we won't have firm numbers until after the 12th class day, but we are feeling optimistic about enrollment and appear to be faring well in comparison with other institutions around the state," Clinton said.
He reported that 94 students graduated from NTCC earlier this month, bringing the total to 559 degrees and certificates awarded for the 2021-2022 academic year.
"That is a tremendous number of graduates and it reflects a lot of work on both their part and that of our faculty and staff. Those graduates are taking with them a great deal of hope and expertise that will benefit our community and State," Clinton said.
Clinton gave a brief overview of NTCC's reaffirmation process with the Southern Association of Colleges and Schools Commission on Colleges (SACSCOC). He outlined the college's Quality Enhancement Plan (QEP), which is called "Sowing Seeds (Show up Engage Experience Develop Succeed) For Success." He said that documentation is currently under review and a team of evaluators will be on campus for a site visit in late September.
Clinton also announced that board chairman, Chuck Johns, has been elected to serve on the board of the Community College Association of Texas Trustees (CCATT).
"We are very grateful to Mr. Johns for his willingness to serve in this important role. This is a critical time for community colleges in Texas and we are happy to have him representing NTCC, and other rural colleges, at the state level," Clinton said.
In action items, the board approved the consent agenda and then tabled an item regarding the waiver of penalty and interest on two camp county properties due to an omission in the agenda.
The board then unanimously approved the 2022-2023 operating budget as presented by Dr. Clinton and Jeff Chambers, Vice President of Administrative Services. The $20,472,986 balanced operating budget was up about $614,145 (3.09%) from the previous fiscal year. Dr. Clinton said that the increase was due to a number of factors including a 3% raise for employees, increases in employee benefits and group health insurance, utility costs, insurance premiums, and other rising expenses.
Next, the board voted to approve the 2022-2023 tax rate. The rate was approved in two motions. The first adopted a rate of .0388 cents per $100 property valuation for Interest and Sinking and the second a rate of .08112 cents per $100 property valuation for Maintenance and Operation. This combined for a total tax rate of 12 cents, which is a decrease of a little more than 7% over the 2021 rate of 13 cents.
Finally, the board approved hiring four new employees: Benjamin Schmidt, Funeral Service Education Faculty Member; Jennifer Myers, Interim English Faculty Member; Cali Butler, Academic Advisor; and Sheila Eddy, Associate Director of Academic Advising.
There was no call for an executive session and the meeting was adjourned.