Jordan Chapin and Raul Leija win Texas Regional Scholarships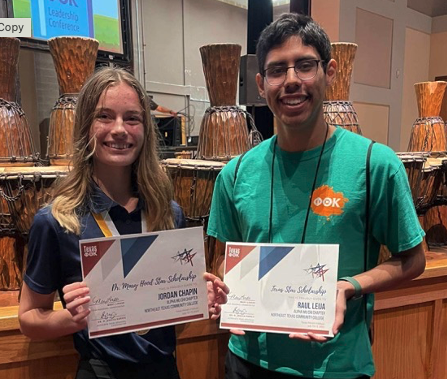 July 25, 2022
Jordan Chapin and Raul Leija recently won scholarships at the Phi Theta Kappa Texas Honors Institute, which ended July 17. Students receiving the STAR scholarships from Phi Theta Kappa must have demonstrated academic and leadership promise. Phi Theta Kappa members from any community college in the state of Texas are eligible for the award.
Jordan Chapin recently won the Dr. Mary Hood STAR Scholarship. The $1,000 scholarship recognizes the student with the highest scoring application among those who applied for the summer 2022 Texas STAR scholarships. The scholarship is available to Phi Theta Kappa members throughout the state of Texas and is awarded on the last day of the Texas Honors Institute, which concluded on July 17.
A Presidential Honors scholar in Honors Northeast, Jordan is spending most of summer 2022 working on a Research Experience for Undergraduates project funded by the National Science Foundation at Texas A&M Commerce. A future clinical pharmacist, Jordan worked as a lab assistant this past year on the NTCC campus. She has presented historical research based on live interviews at the Webb Society, a local library "Lunch and Learn" program, and at the Great Plains Honors Council.  She will be presenting at the upcoming National Collegiate Honors Council in November. Jordan won the 2022 Chitsey Award for most "exceeding expectations" in Honors Northeast this past year.
As the Phi Theta Kappa Texas Regional President, Jordan helped plan, organize, and present the Texas Honors Institute recently held at Texas Lutheran University July 15-17. As an Alpha Mu Chi chapter officer this past year, she received recognition at both the regional and international level as Outstanding. Jordan is also president of the NTCC BioChem Club and is an officer with the Student Government Association. Earlier this summer she spoke at the opening plenary session of the Community College Association of Texas Trustees on the positive impact of student engagement in extracurricular activities.
Chapin commented "I won the top star scholarship! When they were announcing who won the scholarships, I heard "Northeast Texas Community College" in the microphone. I was trying not to get my hopes up, but when they announced my name, my jaw dropped. It was such an amazing feeling! I wasn't expecting it, but couldn't be happier. I'm so thankful!"
Raul Leija  currently serves as the Alpha Mu Chi chapter Vice-President. He is also an officer for the Student Government Association and very involved in Honors Northeast, including being a cinematographer and actor in the Honors films. He also serves on the college's Diversity Equity and Inclusion (DEI) taskforce. Leija received a $500 Texas STAR scholarship.
Leija commented  "As people were being called on stage I began to feel anxious. However, the moment I heard my name be called, that anxiousness was replaced by a feeling of accomplishment and satisfaction upon receiving the Texas Star Scholarship. I'm grateful for my advisor Dr. Fulgham for telling me about this great opportunity."
Chapin and Leija make twenty-two STAR scholars coming from NTCC. The previous twenty Texas STAR Scholarship winners from NTCC include (2021)  Maxime Risner, Aaliyah Avellanda; (2020) Hannah Barnes, Jalyn English, Maritza Quinones, Elizabeth Lively; (2019): Tonya Hammonds, Courtney Baldwin, Jacob Lambie, Jazmin Garcia, Verania Leyva-Garza; (2018) Hannah Dickson, Rhylie Anderson; (2017) Rachel Jordan, Brenda Godoy; (2016) Emmalea Shaw; (2015) Angelica Fuentes; (2014) Kayleah Cumpian, Tyler Reynolds; (2013) Stephen Milburn; (2012) Cory Myers; (2011) John Herron.
This is the third time a student at Northeast Texas Community College has been the top scoring applicant. Hannah Dickson (2018) and Tonya Hammonds (2019) were the previous recipients of the top scoring Dr. Mary Hood STAR Scholarship.