Triple-digit temps forecast for the Southwest this week
This extended period of dryness will allow for efficient heating, and the mercury will rise to a scorching 112 degrees Fahrenheit on Monday, just shy of record territory. Similar values are likely on Tuesday and Wednesday.
AccuWeather Global Weather Center – July 11, 2022 – An active start to the North American monsoon has helped to keep temperatures relatively in check in the Southwest recently, but AccuWeather forecasters say that the chance of thunderstorms will decrease in the coming days, allowing temperatures to swell across the region.
Much of the monsoon's moisture has been focused over Colorado, New Mexico and southeastern Utah as of late. Farther to the west, many locations have received very little, if any, rain. When the ground is dry, the sun's energy is not needed to evaporate moisture. Instead, the ground is heated quickly which results in higher temperatures.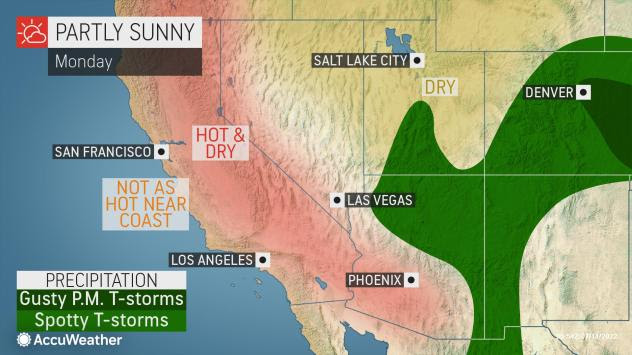 As a 'heat dome' shifts to the west early this week, temperatures will be on the rise. Underneath a heat dome, sinking air causes temperatures to climb, and precipitation and cloud cover tend to be limited.
One example of a city that will continue to be under the dome of heat is Las Vegas. The last time Las Vegas had measurable rain was on March 28 when 0.1 of an inch of rain fell. Sin City is actually in the midst of its second-driest start to the year on record, according to the National Weather Service.
About AccuWeather, Inc. and AccuWeather.com
AccuWeather, recognized and documented as the most accurate source of weather forecasts and warnings in the world, has saved tens of thousands of lives, prevented hundreds of thousands of injuries and tens of billions of dollars in property damage. With global headquarters in State College, PA and other offices around the world, AccuWeather serves more than 1.5 billion people daily to help them plan their lives and get more out of their day through digital media properties, such as AccuWeather.com and mobile, as well as radio, television, newspapers, and the national 24/7 AccuWeather Network channel. Additionally, AccuWeather produces and distributes news, weather content, and video for more than 180,000 third-party websites.