Zoe Craven named Longview Orthopaedic Clinic Collegiate Athlete of the Year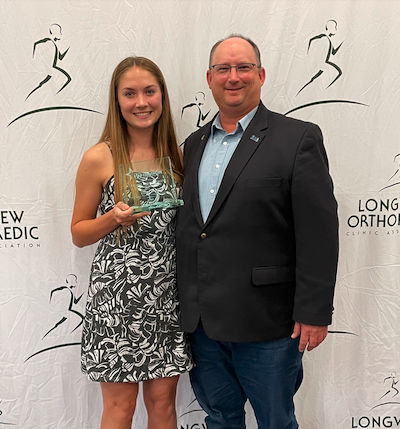 By: Justin Hargrove, Assistant Athletic Director
Northeast Texas Community College Women's Soccer athlete and student Athletic Trainer Zoe Craven has been named the 2021-2022 Longview Orthopaedic Clinic Collegiate Athlete of the Year. As a previous winner of Athlete of the week she was selected as Collegiate Athlete of the year after a vote that was open to the public. Doug Bloyd, Athletic Trainer at Longview Orthopaedic Clinic said, "Over 15,000 Votes were cast in the Facebook voting poll this year."
The winners were announced Thursday, June 16th at the Student Athlete of the Year Banquet held at The Landing at Joshua Farms just outside Longview, Texas. Dr. Joshua Russell started the Athlete of the Week contest in 2020 and this is year two of the athletes and student athletic trainers in East Texas being recognized for their outstanding work on and off the field. Scholarships were awarded to the winners during the end of the year dinner.
Zoe is a sophomore Mid fielder for the Northeast Texas Community College Women's Soccer team and a student athletic trainer for the NTCC Athletic Training Program. Zoe is a Human Performance major from Kilgore, Texas and has excelled on and off the field. In addition to her soccer skills, Zoe achieved a 4.0 GPA for the Fall Semester while competing for the Eagle Soccer Program. Justin Hargrove, Athletic Trainer and Director of Human Performance says "Zoe is such a hard worker on the soccer field and in the Athletic Training room and her hard work continues in the classroom as well. I have the pleasure of working with her as a student athlete, student athletic trainer, and student in the classroom and this made it easy to nominate Zoe as the Athlete of the week this year."
Zoe will graduate from NTCC in December and then transfer to Stephen F. Austin University to continue her education. Zoe plans to apply to the SFA Athletic Training program to work towards her goal of becoming and licensed/certified Athletic Trainer.
Longview Orthopaedics Clinic has been recognizing athletes all over East Texas for the past year. Nominees must be an upstanding person, maintain good grades, and be a meaningful contributor to their team's success.
Longview Orthopaedic Clinic is one of the oldest and largest surgical practices in East Texas specializing in Orthopedic Surgery. Longview Orthopaedic Clinic is committed to providing the highest quality care available.