Western monsoon to bring beneficial rain, flooding risk
"Through the early week, a majority of the monsoonal moisture in the West will be confined to the Four Corners region," AccuWeather Meteorologist Mary Gilbert said. "Thunderstorms are forecast to fire up across a large swath of New Mexico, as well as portions of Arizona and Colorado through Tuesday."
AccuWeather Global Weather Center – June 20, 2022 – After rounds of rain led to major, destructive flooding in Yellowstone National Park last week, AccuWeather forecasters say a surge of tropical moisture will bring more rain chances to much of the Intermountain West. While much of the region will find this rain beneficial, some may find that too much of a good thing can lead to serious impacts.
The surge of moisture that will continue to impact portions of the West early this week is known as the North American monsoon. Moisture from the monsoon is what typically ushers in much-needed rainfall across the Western states in the summer months.
Monsoonal storms first erupted across a large swath of the West late last week and triggered flooding concerns across several states.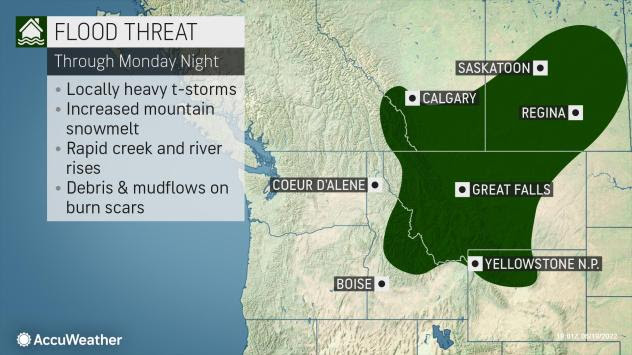 "Through the early week, a majority of the monsoonal moisture in the West will be confined to the Four Corners region," AccuWeather Meteorologist Mary Gilbert said. "Thunderstorms are forecast to fire up across a large swath of New Mexico, as well as portions of Arizona and Colorado through Tuesday."
Even in areas where rain does not fall, other dangers lurk as dry thunderstorms are possible. Dry thunderstorms are storms in which no precipitation reaches the ground, but lightning strikes still occur. Lightning strikes, when combined with tinder-dry ground, can quickly ignite wildfires.
About AccuWeather, Inc. and AccuWeather.com
AccuWeather, recognized and documented as the most accurate source of weather forecasts and warnings in the world, has saved tens of thousands of lives, prevented hundreds of thousands of injuries and tens of billions of dollars in property damage. With global headquarters in State College, PA and other offices around the world, AccuWeather serves more than 1.5 billion people daily to help them plan their lives and get more out of their day through digital media properties, such as AccuWeather.com and mobile, as well as radio, television, newspapers, and the national 24/7 AccuWeather Network channel. Additionally, AccuWeather produces and distributes news, weather content, and video for more than 180,000 third-party websites.