Heat is on: AccuWeather RealFeel Temps to approach 110 in Texas
Children, the elderly, outdoor workers, and those without access to air conditioning are typically at the highest risk when temperatures soar.
AccuWeather Global Weather Center – June 10, 2022 – The excessive heat that's been gripping much of the Lone Star State is about to get even more intense, is poised to smash temperature records — and is far from over, AccuWeather forecasters warn.
Some of the highest temps this weekend are forecast for Austin, which is expected to reach 107 on Saturday and 108 on Sunday, both marks that would shatter the all-time temperature records for those dates. AccuWeather RealFeel® Temperatures on those days are forecast to hit 108 and 110, respectively, there.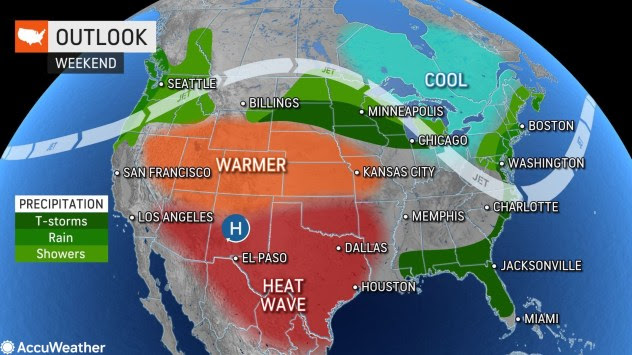 The overall weather pattern has been largely stuck in place for more than a week, which has allowed heat to build across the south-central United States and rounds of severe weather to target the Plains.
Unrelenting heat has already sent daily high temperatures soaring anywhere from 5 to 15 degrees Fahrenheit above normal for cities like San Antonio and Abilene, Texas, since June 1.
"San Antonio has been sweltering in record heat for many consecutive days, with new records officially established from this past Sunday to Tuesday, including back-to-back readings of 104 F on Monday and Tuesday," AccuWeather Senior Meteorologist Bill Deger said.
On Wednesday, the city tied its record high temperature of 101 F and matched that mark again on Thursday.
About AccuWeather, Inc. and AccuWeather.com
AccuWeather, recognized and documented as the most accurate source of weather forecasts and warnings in the world, has saved tens of thousands of lives, prevented hundreds of thousands of injuries and tens of billions of dollars in property damage. With global headquarters in State College, PA and other offices around the world, AccuWeather serves more than 1.5 billion people daily to help them plan their lives and get more out of their day through digital media properties, such as AccuWeather.com and mobile, as well as radio, television, newspapers, and the national 24/7 AccuWeather Network channel. Additionally, AccuWeather produces and distributes news, weather content, and video for more than 180,000 third-party websites.