Breaking News: Vaccine Choice Wins!
Breaking News: Vaccine Choice Wins!
TFVC is thrilled to announce that subsection (d-1) of the statute that allowed for the unscientific policy loophole of denying religious exemptions during a declared emergency has been declared UNCONSTITUTIONAL by a State District Judge because it violates Article 1, Sections 3 and 6 of the Texas Constitution. The Court ruled that allowing for the suspension of philosophical and religious vaccine exemptions during an emergency violated equal protection and religious freedom, both guarantees of the Texas Bill of Rights.

This was an unequivocal victory that will immediately and directly influence college exemption policies across the state.

Read more about this victory here.
RPT State Convention Update
The largest political gathering in our nation is coming up next week, and we want YOU to participate! We have created a blog for delegates and non-delegates alike with ways you can help from home and in-person!

Two actions you can take right now:

Sign the Petition: Convention attendees will be able to sign petition cards at our booth. These cards will be HAND DELIVERED to Gov. Abbott's booth at the convention. If you are not attending but would still like to sign, click HERE, and we will fill out a card for you and place it in the petition box at convention.

Gear Up: Show your support for the vaccine choice mission with our new exclusive, limited edition additions to our swag store. Delegates: We will have special discounts on shirts at the convention, but quantities will be limited.

Read the blog for even more ways YOU can get involved!
Delegates: Be sure you are reading our delegate-only emails!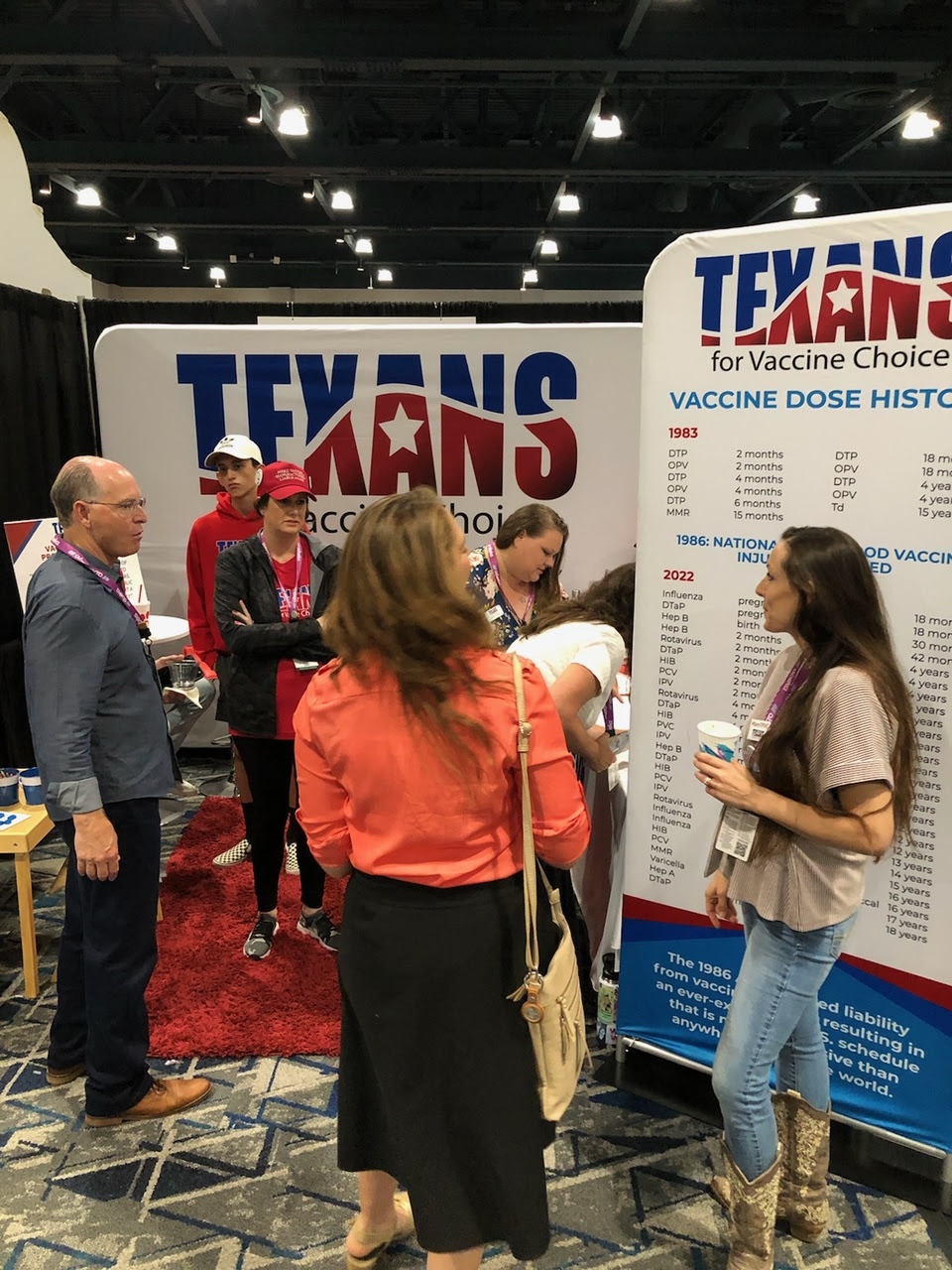 Called to Teach Woodlands
Our team just got back from an incredible weekend at the THSC Called to Teach Convention in The Woodlands. We had so many terrific conversations about medical freedom and government overreach in the booth!
TFVC Presents! Gut Health and the Immune System
Our amazing Regional Outreach Coordinator in San Antonio hosted an evening of learning and conversation last week. What a fun and educational time was had by all!
You can stay up to date on all of our events HERE or by downloading the TFVC App for your iPhone or Android.
With you in the battle,
Team TFVC
Texans for Vaccine Choice
1540 Keller Parkway, Ste 108, #166,
Keller, TX 76248