Heat wave to bring 100-degree temperatures to Texas
"The energy grid could be under stress with air conditioners and fans running consistently to try to keep people comfortable," AccuWeather Senior Meteorologist Paul Walker.
AccuWeather Global Weather Center – June 6, 2022 – June is already off to a toasty start for much of the south-central United States following an abnormally warm May for the region. AccuWeather forecasters say Mother Nature is set to dial up the thermostat and send parts of the region to sweltering levels through early week, which will put several daily temperature records in jeopardy.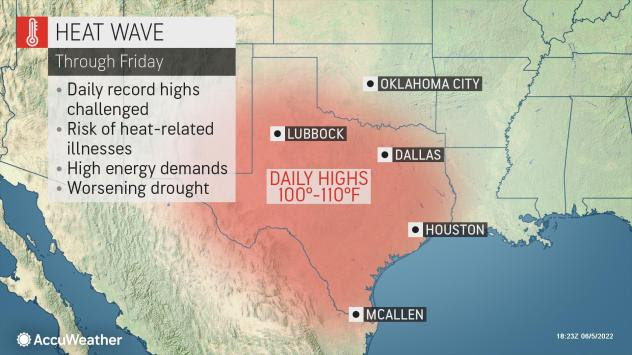 A northward shift in the jet stream has allowed unseasonably hot air to push out of Mexico and seep across portions of the South Central states as well as the Four Corners region. Areas from New Mexico and Texas north into portions of Colorado and Kansas will all encounter temperatures on the rise during the first half of the week.
Temperatures will be more typical of the height of summer, rather than early summer, according to c
Cities like Abilene, San Antonio and Austin, Texas, typically record high temperatures around 90 F in early June but are all forecast to climb above 100 F through midweek. Daily high-temperature records will be in jeopardy for multiple days in a row.
By Monday, AccuWeather RealFeel® Temperatures will soar to 107 F for places like Abilene. For some cities in southern Texas that sit along the border with Mexico, temperatures will soar even higher.
About AccuWeather, Inc. and AccuWeather.com
AccuWeather, recognized and documented as the most accurate source of weather forecasts and warnings in the world, has saved tens of thousands of lives, prevented hundreds of thousands of injuries and tens of billions of dollars in property damage. With global headquarters in State College, PA and other offices around the world, AccuWeather serves more than 1.5 billion people daily to help them plan their lives and get more out of their day through digital media properties, such as AccuWeather.com and mobile, as well as radio, television, newspapers, and the national 24/7 AccuWeather Network channel. Additionally, AccuWeather produces and distributes news, weather content, and video for more than 180,000 third-party websites.