Medical Assistant program accepting applications through April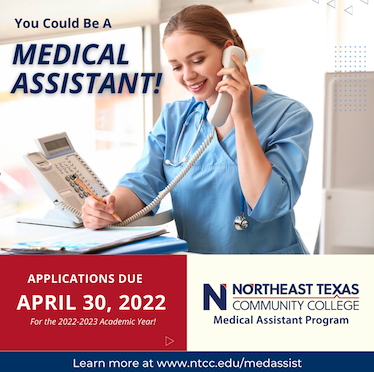 Medical Assistants are a vital part of healthcare as they work alongside physicians, mainly in outpatient or ambulatory care facilities, such as medical offices and clinics. Medical assistants are​ cross-trained to perform administrative and clinical duties making them the heart of healthcare.
The Medical Assistant Program at NTCC is currently accepting applications until April 30th. If you are interested in becoming a Certified Medical Assistant, please contact April Brannon @ 903-563-1694 or 903-434-8131. You can also visit the NTCC website and find the Medical Assistant page (under Health Sciences) to provide more information regarding the courses, pricing, and application process.