Phi Theta Kappa's Murder Mystery Dinner a roaring success

March 10, 2022
NTCC's Alpha Mu Chi chapter of Phi Theta Kappa hosted a successful Murder Mystery Dinner Theatre event on Tuesday, February 22 in the Whatley Center foyer.  The three-course dinner, catered by Racks, Daqz, and Axe owned by Rico Willis in Pittsburg, and interactive experience, featuring a wedding that quickly turned sour, was a night to remember.  It was the bee's knees!
Guests were encouraged to dress for the 1920s themed wedding.  Parties who attended together and purchased a table gave names for table reservations, including Kakie's Kool Kats, the Charleston Crew, and the Radium Gals.  Dorothy Peek, who wore a bright red feather in her headband and long pearl necklaces with her beaded dress won the costume contest.  Some of the other creative awards included the Most Creative Detective Award, which went to Denisse Muniz;  Mandy Smith received the Most Inquisitive Detective Award and Adrian Santiesteban received the Bumbling Detective Award.  Hope Kelly and her family won the Most Engaged Table Award and were rewarded with a bag of NTCC goodies.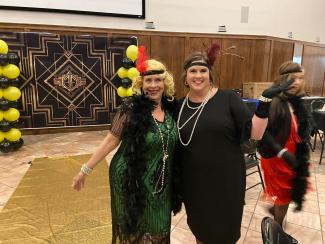 "I was shocked that out of everyone I won an award. Unexpected," said Denisse Muniz.
The event was narrated by Dr. Matthew Lampert and acted out by chapter members, who wore costumes and discovered hidden letters, mysterious gifts, and, of course, a murder…or two between dinner courses.  The cast included Cade Bennett, Jordan Chapin, Skylar Fondren, Gracie Gray, Hope Kelly, Jessie Parchman, Israel Perez, Brian Ramirez, John Rodriguez, and Davin Whatley.  Each student stayed in character from beginning to end of the night and delighted guests with exceptional entertainment.  Cade Bennett, who took on the role of a strong-willed pig farmer and the father of the bride, was selected as Best Actor for the night.  Gracie Gray, the mother of the groom and lover to the best man (scandalous!), won Best Actress.
Several attendees made comments about how entertaining and thrilling the student's performances were.  Macie Miller commented that the chapter Murder Mystery was more fun and entertaining than one she had attended on a cruise done by a professional company.
"The Murder Mystery was so much fun to plan for and see come together," said Jordan Chapin, chapter incoming President. "I loved being able to act as a murder suspect."
At the conclusion of the event, Jordan thanked advisors, including the invaluable contributions of Dr. Melissa Fulgham, donors, and attendees for their support.  The chapter held a silent auction and was especially appreciative to donors for items including a cheesecake from Laura's Cheesecake, a grill and toolset from Home Depot, NTCC gear, and a pedicure by Daisy Gonzales Nail Tech.  The chapter was also appreciative of the support of Super 1 Foods for additional drinks.