Arctic blast to grip Minneapolis to Dallas with spring right around the corner
AccuWeather forecasters say that harsh cold will send temperatures trending downward through the remainder of this week in the Plains and Midwest with the official start of spring less than two weeks away.
AccuWeather Global Weather Center – March 10, 2022 – The cold air began to pour into the northern Plains on Thursday. Minneapolis is forecast to top out at only 28 degrees Fahrenheit Thursday, and while that is not harsh by Minnesota standards, the normal high for this time of year in the Twin Cities is around 39 degrees as average temperatures begin to climb at a rapid pace in March.
However, it will take until Friday for the truly frigid air to arrive. Minneapolis will struggle to reach the mid-teens on Friday as temperatures remain about 25 degrees below normal. The mercury is likely to plunge below zero on Friday night, forecasters say.
The cold air will not only affect the northernmost states and has already set record lows as of Thursday morning. Denver set a record low of 7 below zero Fahrenheit, breaking the previous daily mark for March 10 of 3 below zero that had stood since 1932.
Snow is expected on Thursday night, and temperatures will not recover much on Friday. The Arctic plunge will even reach the Lone Star State. Highs have reached 80 degrees twice already this month in Dallas, but temperatures will be nowhere near that as the week winds down.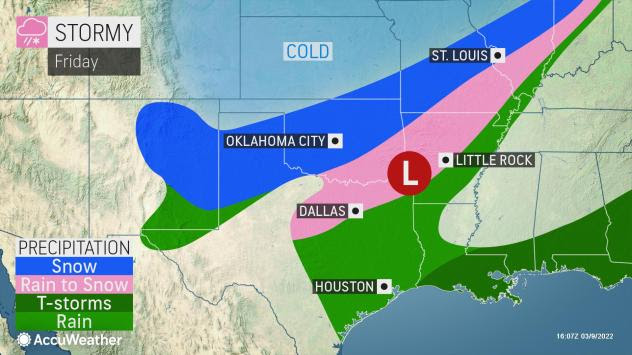 With the sun getting higher in the sky and the days getting longer as March presses on, cold air does not often have the same staying power that it would have a month or two ago. The temperature roller coaster will continue into the weekend as warmth begins to build.
About AccuWeather, Inc. and AccuWeather.com
AccuWeather, recognized and documented as the most accurate source of weather forecasts and warnings in the world, has saved tens of thousands of lives, prevented hundreds of thousands of injuries and tens of billions of dollars in property damage. With global headquarters in State College, PA and other offices around the world, AccuWeather serves more than 1.5 billion people daily to help them plan their lives and get more out of their day through digital media properties, such as AccuWeather.com and mobile, as well as radio, television, newspapers, and the national 24/7 AccuWeather Network channel. Additionally, AccuWeather produces and distributes news, weather content, and video for more than 180,000 third-party websites.