Jessie Parchman attends Public Leadership Education Network Conference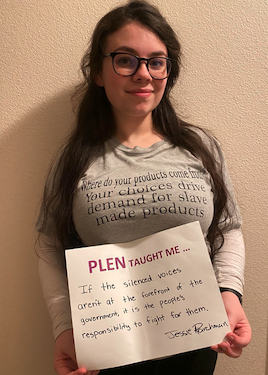 February 9, 2022
Jessie Parchman, a Presidential Honors Scholar at NTCC and a Chapel Hill high school senior, became the first person from this region to attend the Public Leadership Education Network Conference (PLEN).  Jessie also serves as a chapter officer for NTCC's Phi Theta Kappa chapter, Alpha Mu Chi.
The Public Leadership Education Network is the only national, nonpartisan organization that focuses on preparing college women for leadership within the public policy field. The network brings hundreds of college students from across the country to Washington D.C. They experience firsthand how public policy is shaped and implemented at the national level. The seminar prepares them to become the next generation of public policymakers.
The weeklong virtual seminar over Public Policy, January 10th-14th, allowed Jessie to meet and learn from female leaders influencing public policy at the highest level in Congress, courts, federal agencies, the private sector, policy researchers, and advocacy organizations.
Dr. Melissa Fulgham recommended Jessie apply to attend the conference. "Jessie has been a strong advocate to raise awareness of human trafficking and using her research to advocate for real change. The conference seemed a great opportunity for her to network with similar individuals." Only two days after her 18th birthday, Jessie was the youngest to win the scholarship to attend this seminar through the Texas Women's University – Center for Women in Politics and Public Policy.
Jessie stated that "it was an honor to attend this life-changing seminar. I have met women from the Whitehouse, Capitol Hill, leading nonprofit organizations, etc. As someone who speaks out & will hopefully create a nonprofit to reduce human trafficking and modern-day slavery rates, I feel more equipped and prepared in a networking sense to battle this issue."
"Jessie may have been the first student from NTCC to be part of this national networking program, but I am hoping there will be others in the future as well," said Dr. Fulgham.
To learn more about Honors Northeast, which helps students like Jessie maximize their college experience, visit www.ntcc.edu/honors.