Snowstorm to blanket Rockies before eyeing Texas
Those traveling across interstates 25, 27, 40, 70, 76 or 80 should be aware of diminishing visibility and slippery roadways as snow coats the highways. Bridges and overpasses are typically going to become dangerous first, but if enough snow falls, any road can become hazardous.
AccuWeather Global Weather Center – January 24, 2022 – A winter storm is forecast to dive southward across the Rocky Mountains early this week to produce a wide swath of several inches of snow along with teeth-chattering conditions. This storm will likely cause slippery travel conditions in cities such as Denver and reduced visibility across some major highways.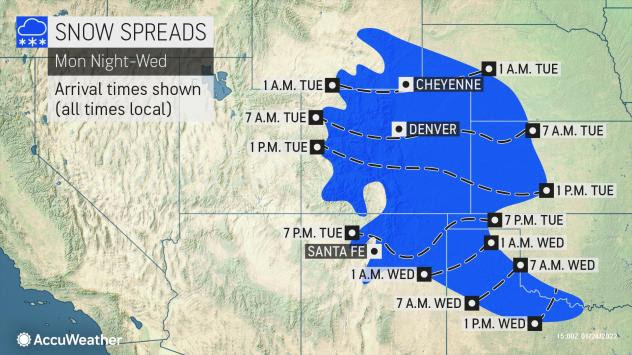 "A stationary front extending southward from southwestern Canada will bring rounds of snow to the northern and central Rockies Monday night into Tuesday night," said AccuWeather Meteorologist Alyssa Smithmyer. A stationary front occurs when the forward motion of a cold front slows and stalls.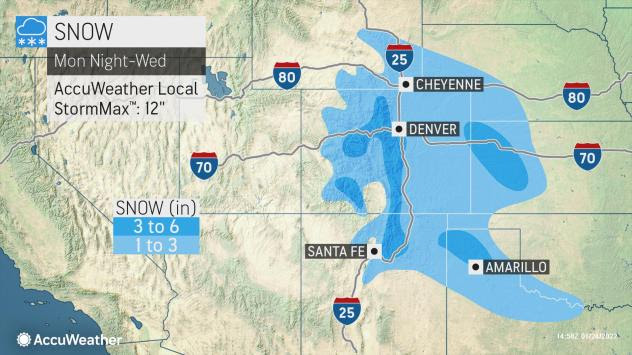 The storm will begin diving out of Canada on Monday, bringing snow to places like Calgary, Alberta, before reaching Billings and Missoula, Montana, and Rapid City, South Dakota. After nightfall, the snow is expected to continue traveling southward into places like Casper and Cheyenne, Wyoming.
"The higher elevations of the Colorado Rockies are expected to record snowfall amounts of 3-6 inches, with lower amounts of 1-3 inches across southeastern Wyoming, eastern Colorado, southwestern Nebraska, western Kansas and northeastern New Mexico," Smithmyer said.
Accumulations of 3-6 inches are also expected across western Kansas, just outside Dodge City, which is anticipated to receive 1-3 inches, and an AccuWeather Local StormMax™ of 12 inches will be possible in some locations.
About AccuWeather, Inc. and AccuWeather.com
AccuWeather, recognized and documented as the most accurate source of weather forecasts and warnings in the world, has saved tens of thousands of lives, prevented hundreds of thousands of injuries and tens of billions of dollars in property damage. With global headquarters in State College, PA and other offices around the world, AccuWeather serves more than 1.5 billion people daily to help them plan their lives and get more out of their day through digital media properties, such as AccuWeather.com and mobile, as well as radio, television, newspapers, and the national 24/7 AccuWeather Network channel. Additionally, AccuWeather produces and distributes news, weather content, and video for more than 180,000 third-party websites.