Warmest Christmas ever? Sweltering month in the Plains to continue
Some major cities could see their highest Christmas temperatures in nearly 100 years, while others could be in need of an all-new record book for Christmas.
AccuWeather Global Weather Center – December 24, 2021 – This Christmas could be the warmest in more than 50 or even 100 years for parts of the south-central United States, and AccuWeather forecasters say several cities are tracking toward experiencing their warmest December on record.
"Dallas, Houston, Oklahoma City and Tulsa, Oklahoma, Little Rock, Arkansas, and Memphis, Tennessee, all stand to match or top the record high for Dec. 25. this Saturday," AccuWeather Senior Meteorologist Brett Anderson said, adding that highs in the 70s and 80s F, which will be common for much of the south-central region, are more typical of early to mid-October.
In Memphis and Tulsa, record highs that date back more than a century or nearly a century could be challenged. The record high for Dec. 25 in Memphis is 76 from 1889. In Tulsa, the record temperature is 73 from 1922.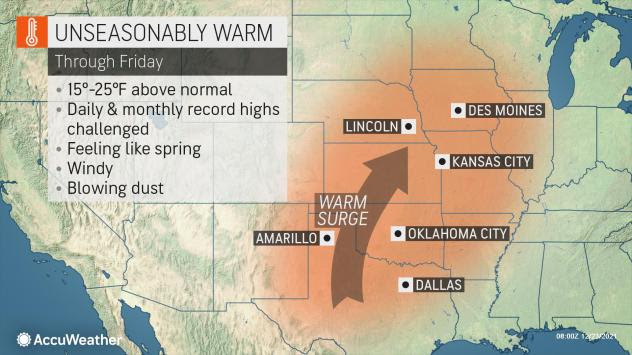 AccuWeather is projecting a high of 84 in Houston and 81 in Dallas on Saturday, which could set new daily records for Christmas Day in both cities. Houston's current record of 83 was set back in 2015 and Dallas' record of 80 was established in 2016.
AccuWeather forecasters are also predicting a high of 76 on Christmas Day in Little Rock, Arkansas, which has a Christmas record high of 73, but that mark has not been threatened since 1942. Oklahoma City may come within striking distance of its record high of 73 set in 2016.
Gusty winds will accompany the Christmastime warmth and could be more than an annoyance for those planning on taking advantage and spending time outdoors. The winds from the south, southwest and west are forecast to average 15-30 mph with higher gusts up to 40-60 mph that can raise the risk of brush fires igniting then quickly spreading over parts of the central and southern Plains.
Forecasters say those planning to use outdoor grills, barbecue pits and any open flames should do so with caution. In some cases, winds can be strong enough to kick up dust in parts of Kansas, Oklahoma, Texas, Colorado and New Mexico.
About AccuWeather, Inc. and AccuWeather.com
AccuWeather, recognized and documented as the most accurate source of weather forecasts and warnings in the world, has saved tens of thousands of lives, prevented hundreds of thousands of injuries and tens of billions of dollars in property damage. With global headquarters in State College, PA and other offices around the world, AccuWeather serves more than 1.5 billion people daily to help them plan their lives and get more out of their day through digital media properties, such as AccuWeather.com and mobile, as well as radio, television, newspapers, and the national 24/7 AccuWeather Network channel. Additionally, AccuWeather produces and distributes news, weather content, and video for more than 180,000 third-party websites.