NTCC alumna wins $150,000 scholarship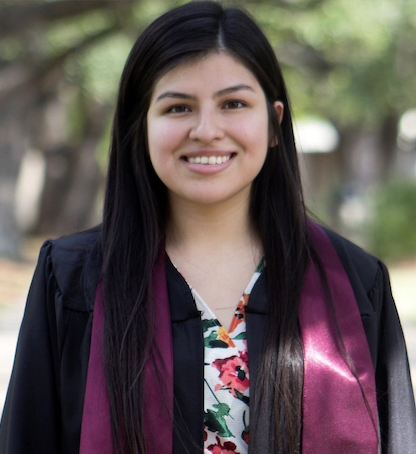 January 13, 2022
By: Dr. Andrew Yox, Honors Director
Jessica Velazquez, a 2014-2016 member of the NTCC Honors program, Honors Northeast, has recently won her second Jack Kent Cooke Scholarship.  The first, back in 2016, gave her a free ride to Texas A&M at College Station.  This award will enable Velazquez to pursue graduate school at The University of Texas Health Science Center at Houston (UTHealth).  She will also continue to work with Dr. Carl Allen's Histiocytosis-Lymphoma laboratory in the Pediatrics Hematology-Oncology Department at Baylor College of Medicine.
Velazquez, who first published in Touchstone, the collegiate journal of the Texas State Historical Association while at NTCC, has now authored several other articles in medicine, and has given several high-profile presentations.  Her specialization has been T-cells, and their role in Langerhans Cell Histiocytosis, a rare disease of the white blood cells.  She also has won an opportunity to work out of Bonn, Germany as part of the Medicine Abroad Program, visiting museums, and hospitals, and researching the history of German medicine.  This summer she hopes to work at the Cancer Prevention and Control (CAPAC) Research Training Program at the Division of Cancer Control and Population Sciences of the University of Puerto Rico.
NTCC Honors Director Dr. Andrew Yox, who wrote one of the letters for Velazquez's recent award noted: "Velazquez is a young scholar with three trademark virtues that mark her as exceptional:  She is ultra-meticulous, gracious, and empathic. The prototype that comes to mind is Clara Barton, someone who willingly would take on a complex mega-project, and yet do it in the spirit of service."
When asked to provide a comment on her recent award, Velazquez who retains good ties yet with NTCC and her hometown friends in Mount Vernon noted: "Reflecting back on my time in the honors program at NTCC, I am very grateful to have had the privilege of being a part of it as it has played a major part in my academic success. In addition, I am very appreciative for the support I received and continue to receive from Dr. Yox and Dr. Hearron."
The Honors program at NTCC is accepting applications for the 2022-23 school year.  Talented public high school students, high school seniors, homeschoolers in transition, and parents are welcome to contact Dr. Andrew P. Yox, Honors Director, at ayox@ntcc.edu.