Pharmacy Tech program accepting applications
Pharmacy Tech program accepting applications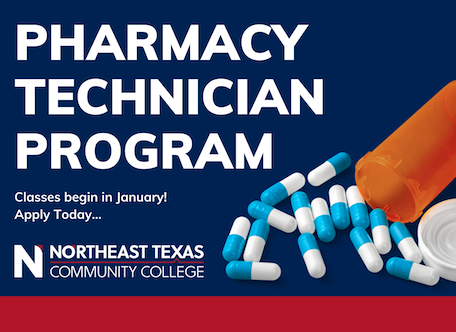 December 15, 2021
The Continuing Education Department at Northeast Texas Community College is currently accepting applications for its Pharmacy Technician program. Classes for the one-semester program begin January 18.
This Pharmacy Technician certificate program consists of 288 contact hours of lecture, lab and internship training for students to become Community Pharmacy Technicians in a retail pharmacy environment. Instruction emphasizes the practical application of pharmacy mathematics, pharmaceutical terminology, drug packaging and labeling, dosage preparation, inventory systems and management, and customer service.
Upon successful completion of the Community Pharmacy Technician Program, students will receive a certificate of completion including competencies from each course within the curriculum.
"Pharmacy techs are quite in-demand in today's market. This is a great opportunity for students to train for a career in a relatively short time frame," Lisa York, Coordinator of Continuing Education, said.
Qualifying students may be eligible for financial aid. The Texas Public Education Grant (TPEG) is available to assist non-credit students with tuition expenses only. TPEG application directions can be obtained by submitting proof of eligibility from the NTCC financial aid office. Students are encouraged to apply at least one month prior to registration.
Students that do not qualify for financial aid can set up a payment plan. Additional limited assistance may be available. Contact the Continuing Education Department for more information on the student payment plan, at 903-434-8134. Visit www.ntcc.edu/continuinged to learn about other training opportunities at NTCC.