Six graduate from NTCC Professional Driving Academy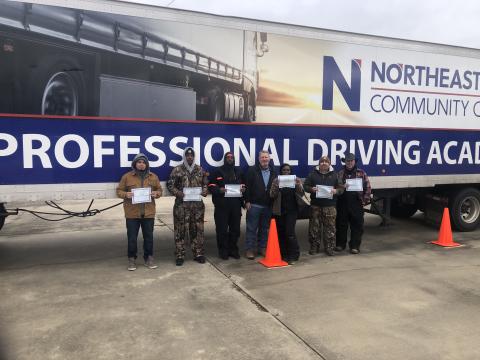 January 15, 2021
The Northeast Texas Community College Professional Driving Academy recently celebrated the graduation of six more students, making a combined total of 15 completers since the first class in September.  Pictured (from left) is: Steven Lopez, Paul Hurndon, Kolin MCcuin, Michael Jones (Program Director), LaDavia Cornelius, William Birkham, and David Kennedy.

The four-week Professional Driving Academy includes 160 hours of training, DOT physical, drug screen, MVR and CDL permit. Students spend 50 hours in the classroom and 110 hours on the road driving. 

"This is an accomplishment for all parties involved. It shows that the CDL Class A certification is in demand and people want to take it here at NTCC. This is our largest class yet and we look forward to training many more drivers to fill the regional job demand," Jimmy Smith, Workforce Developer, said. 

Classes are held monthly, so students never have to wait too long to get started. The cost is $4,191 and limited financial aid may be available. To sign up or for more information, please call 903-434-8330 or e-mail mailto:continuinged@ntcc.edu. You can also learn more at http://www.ntcc.edu/continuinged. Students must be at least 18 years of age and able to pass a DOT physical, drug screen and MVR check.