Honors Northeast alumna accepted into Physician Assistant school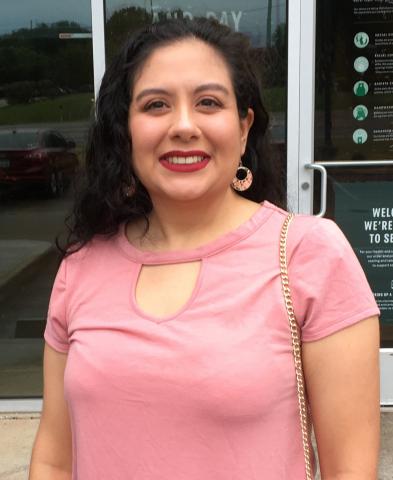 July 9, 2020
By: Dr. Andrew Yox, NTCC Honors Director
In the first issue of the NTCC honors newsletter, Alacrity, in the spring of 2008, her image appeared four times.  Along with Zachary Richardson, she was the first NTCC student to present at the National Collegiate Honors Council. She was the first honors student to win an REU summer fellowship, and the first to present at a professional association—the American Chemical Society, which she attended along with Drs. Jim and Paula Archer in March of 2009. 
Samantha De la Garza has come a long way since 2009.  She attended the University of Washington, raised three children, starred in two theatre productions--including one at NTCC and one with Paris Community Theatre, attained her Patient Care Tech certification at NTCC in the spring of 2019, and now is keeping tabs on covid patients for Titus Regional Hospital.
In the midst of a busy life which also included helping to shore up the theatre program at Mount Vernon High School, and volunteer work at the hospital, De la Garza has recently learned of her acceptance into the Physician Assistant School at the University of Texas-Rio Grande, in Edinburg. While continuing her work at the hospital, she is currently making plans to move her family to the valley to begin her new career in the fall.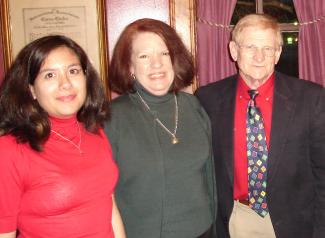 Garza with Drs. Jim and Paula Archer, Spring of 2009.
Honors Director, Dr. Andrew Yox notes: "Samantha was one of the pioneers who first showed us what honors students were capable of at NTCC.  She starred in a troupe as a Caddo Indian that performed at the Mount Pleasant Library before we did our film series. She reached a level of expertise in chemistry with protein tagging that we thought was only possible for graduate students.  She has lived a remarkable life, and we are so pleased that she has succeeded in advancing to yet another level of achievement."
Samantha is the daughter of long-term Mount Pleasant resident, Juanita Martinez, who is now in Houston.