Adult Education offers free online computer literacy class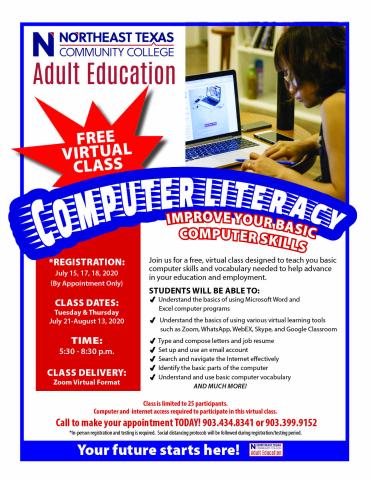 July 9, 2020
The Northeast Texas Community College Adult Education Program is offering a free Computer Literacy virtual class beginning July 21. The course, which will be held fully online, will meet Tuesdays and Thursdays from July 21 to August 13 from 5:30-8:30 p.m. 
The class is designed to teach basic computer skills and vocabulary necessary to help advance your education and employment opportunities. Participants will be able to:
Understand the basics of Microsoft Word and Excel

Understand the basics of various virtual learning tools such as Zoom, WhatsApp, WebEX, Skype and Google Classroom

Type and compose letters and job resumes

Set up and use an e-mail account

Search and navigate the internet safely

Identify the basic parts of a computer

Understand and use basic computer vocabulary
The class is limited to the first 25 participants and registration is required. Students must complete in-person testing and registration. Appointments are available July 15, 17 and 18 by calling 903-434-8341 or 903-399-9152. Reliable access to a computer with an internet connection is necessary to complete the course.